What can a CRM system deliver to your business?
When a business is small it's relatively easy to keep on top of it, know all your customers and measure the performance of your marketing and sales activities. As the business grows larger this becomes harder, particularly if you open other offices.
A CRM system can provide your business the basic tools to manage customer interactions as the business grows. In a similar way, an Enterprise Resource Management (ERP) system can help manage the internal interactions as a company grows.
COMMON CRM BENEFITS
CRM software consolidates all customer information and processes into one, holistic view of each customer. This enables customer-facing employees in sales, marketing and customer service to make quick, informed decisions on everything from cross-selling and up-selling opportunities to target marketing strategies and effective problem resolution.
Studies show that on average, companies using CRM software grow their businesses at a rate 2-3 times faster than those that do not.
CRM SOFTWARE ENABLES BUSINESSES TO:
Win more deals by collaborating throughout the sales cycle

Centralise customer information for all employees

Better service customers

Build profitable relationships with customers through more effective target marketing

Increase customer loyalty and drive repeat business

Automate customer-facing business processes and streamline repetitive tasks

Gain visibility into staff and business performance to make timely decisions

A CRM system offers a comprehensive feature set, providing capabilities that span sales, marketing, call centre, and service operations, as well as advanced forecasting, reporting, analysis, and performance management.
Additionally, CRM solutions provide sophisticated role-based security, and the ability to seamlessly integrate with other business systems, including ecommerce applications and ERP packages.
WHAT ARE BENEFITS OF CRM TO SALES?
In a recent CSO Insight report the Top 3 benefits measured by companies who had installed a CRM were:
Improved Communications with management (56%)

Improved Forecast Accuracy (45%)

Reduced Administration burden (37%)

These are pretty significant results as they can increase 'selling time'. The diagram below shows all the results.
A CRM SYSTEM WORKS FOR SALES AT TWO LEVELS, FIRST FOR MANAGEMENT AND THEN AT THE SALES REPRESENTATIVE LEVEL.
Firstly, a CRM answers these typical questions from a sales manager:
For businesses I am interested in, when was the last significant status change?
What does my lead and opportunity pipeline look like?
Are there any accounts that have been deactivated?
How many leads were disqualified recently?
Have we lost any opporutnities?
How many orders are in the pipeline? Have any orders been cancelled?

How many quotes are we working on? Have any been cancelled?
At an individual sales representative level the key sales functionality are managing contacts, organising sales appointments and managing sales opportunities.
Managing contacts is all about capturing the details about an individual and a company in one place. On an individual you will want to capture all the details on a person's business card. You will also want to capture that person's "role" rather than their title e.g. the role may be Chief Financial Officer (CFO) although the "title" can be different, such as GM Finance. Thereafter, you will want to log emails, phone calls etc.
At a company level you will want to capture all the individuals within that company under the account umbrella. You can add account plans, special products requests and account specific price lists.
A sales person will also want to manage appointments in the CRM. This will allow you to plan your sales effort and opportunities to ensure that you are contacting the right people and companies.
Sales opportunities are where leads are managed from suspects to prospects to opportunities to customer and then repeat customers. CRM is good at helping a business manage their future growth in this arena.
The major benefits for sales is time saving, making it more efficient, reducing rework and cross checks. As a management tool it also provides a better understanding of future sales and what resources are being applied to which opportunities.
One of the key motivators for businesses to invest in a CRM solution is to better manage sales, sales representatives, pipeline etc. This is usually due to the frustrations of trying to manage these things on spreadsheets.
EXTENDED SALES BENEFITS
As companies grow, they can extend their reach and capability by adding a call centre or by adding a Web Store to their website. A CRM system underpins these initiatives.
A CALL CENTRE CAN HELP TO:
Increase customer satisfaction
Improve credibility with customers
Increase revenue and productivity
Manage the customer interaction life cycle
A WEB STORE CAN
Drive revenue and extend market reach

Increase customer convenience and satisfaction

Reduce the cost of sales and support

Build lasting customer loyalty

Improve sales and service profitability

What are the benefits of CRM to Marketing?

CRM systems when used well can help marketing departments prove their worth. Some types of marketing such as advertising provide only vague returns as it's hard to measure who bought your product from a newspaper advert. However, by using a CRM and sending out an email or a brochure you are able to measure who bought products – and so measure how much revenue was generated.
CRM software can simplify marketing processes and drive customer interactions. CRM functionality enhances management of marketing resources, segments and lists, campaigns, leads, trade promotions, and marketing analytics.
THE BENEFITS INCLUDE:
Drive customer demand
Increase returns on marketing investments
Make intelligent business decisions with enhanced customer insights
Increase speed to market
Maximise visibility into and control of entire marketing process
A 2010 report looked at the focus areas for marketing strategy. 7 of the 8 focus areas would be enhanced by a CRM system -these are pretty significant.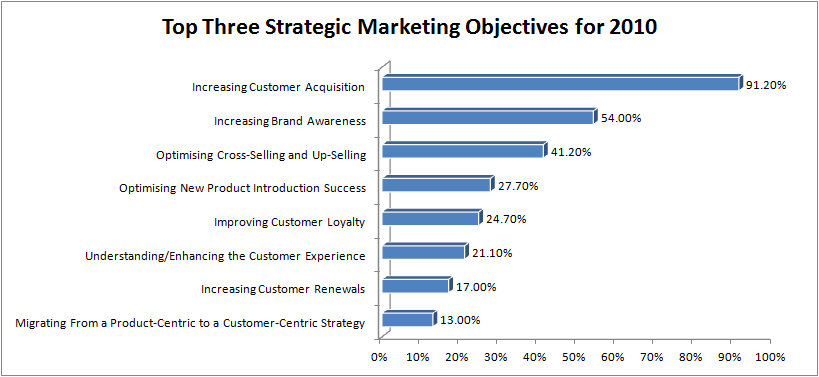 Marketing is often one of the weakest areas within a business, and often misunderstood. Similarly the marketing functions of a CRM are simpler than vendors portray them to be.
The marketing features of a CRM system include campaign management, market feedback and optimised tactics and messages.
Marketing Campaigns are in the simplest terms a set of activities to communicate a message to customers or prospective customers. Campaign Management is how these are pulled together:
Choosing who to communicate to
Choosing the medium
Choosing what to say
Measuring results and feedback
For example if you wanted to send an email to people in the finance function. The best way would be to use the CFO "role" we discussed above, rather than looking through individual finance titles. In this case the medium is email; the message may be a new product or service you want to promote. The CRM will help you assemble this campaign and then to send it out to the target list. The CRM system can also capture responses or actions such as people visiting your web site of specific campaign page.
The marketing functionality can provide you insight into customers and prospects at a macro-level (what was the most read articles, what was least read) as well as micro-level (a customer looks at a new product pricing page) that may generate new business opportunities.
The key benefit to a marketing function is that what could be complex marketing campaigns if done manually, can be easily created and executed. Even more important is that you can measure the response to a campaign more easily and then create a new one from the experience.
WHAT ARE THE BENEFITS OF CRM TO CUSTOMER SERVICE?
A CRM system can drive service revenue and profitability with support for service sales and marketing. More effectively manage service orders, contracts, complaints and returns, in-house and repairs, warranties, resource planning, e-service, and service analytics. Functionality to support call centres, field service, and e-service provides flexible delivery options.
Service functions of CRM are about sharing knowledge and expertise. Questions can be posed, answers captured and shared. A service representative can identify a new problem and share a resolution. Experience can be digitised and shared as can manuals and training.
The benefits are that patterns across the customer base can become clear and the service operation can become proactive. For example, if a product has an issue then all owners of that product can be contacted. This demonstrates that your business is proactive and you can perform preventative maintenance, a reduced time to repair and reduced customer downtimes.
SUMMARY
One of the terms often held up as a benefit of CRM is "a single source of the truth". This requires a little time and effort initially, but it means that the entire customer facing information on a client is held in the CRM, this is then accessible and shareable to all relevant staff. This reduces the amount of cross-checking and reworking of activities associated with that customer. This saves time and money – and allows you spend more time on activities that grow your business.
Write down the key benefits you expect from a CRM.