CRM or customer relationship management is a major part of a successful business in today's world. CRM usage has greatly increased over the past few years, with more companies turning to this software as a critical part of their day to day operations. There are many free CRM software providers if all your business needs is simple functionality and there is also a broad range of paid CRM software. Statistics tell us that 91% of businesses with eleven or more employees are using CRM today, and half of businesses with ten or fewer employees are also using CRM. This software is no longer for big companies – it's a vital tool  for small and medium sized businesses.
Some CRM can be costly, but the return on investment is huge. In fact, statistics show that companies are earning $8.71 for every dollar they spend on CRM. By using a CRM, you are taking advantage of a great way to increase your sales, productivity, and forecast accuracy. Statistics also show that customer retention rates increase by nearly 30% when a company uses CRM software.
All business news tell us that CRM is crucial for business success, but the question remains: why is CRM so particularly important? With CRM, we can better understand our customers by tracking analytics such as where, what and why they purchase – to better anticipate and forecast customer needs. This helps to reveal possibilities and opportunities while allowing you to build a stronger relationship with customers. A CRM software program can help organize lead information so that you can easily compile everything you need at once for a client. All sections of  your company can profit from by access to all the same information about a client because all the information is kept in a single platform. Using categories such as partners, prospective partners, customers, and prospective customers helps your business professionally organize all of the information you have for each contact and your staff can  track and record every interaction.
The very basis of a free CRM platform or a paid CRM platform is to collect data, which is then stored in an organized manner that is used by your team to analyze customer behaviour.
However, there are a few challenges to successfully implementing a CRM platform. For instance, not having the right support to complete the implementation. Let's face it; new tech can seem daunting and it's important to choose a CRM that is user friendly, an application that will be readily utilised by your staff. Additionally, not having a clear goal in mind can make CRM implementation tough. You'll need to clearly identify your core reasons for choosing a CRM. Are you looking to support your Marketing team? Sales? Are you concerned that prospective clients are lost because you have no way to record and nurture the relationship?  
CRM can absolutely help make the most from every point of contact and ensure that prospects are being leveraged to their potential. CRM software ensures that you are staying in touch long after the initial point of contact has been made. If you are looking for a true long term way to manage relationships with customers and prospects, then Customer Relationship Management software is definitely the way to go.
However there is one key aspect of a CRM software that must be considered – the cost.
Some CRM platforms are known for being expensive. This cost can be a challenge for small or medium business, especially when they will rarely use all the deep functionality many paid  CRM platforms offer. The reality is that a robust CRM platform can easily cost hundreds of dollars, excluding other costs.
Yes, there are other costs aside from the software. While the program will have a cost of its own, the other costs associated with a CRM can come in the form of training and support. In addition, if the software is not cloud-based and you need someone to come in and actually install and setup your CRM, that will cost you. And if you have a staff member working on the implementation of a CRM program, then you will be sacrificing them to work on this project. They won't have time to do their usual work, which means that your company will suffer in some area until that staff member can resume their usual duties.
CRM is still one of the biggest software investment many companies make, however if you are just starting your business and keen to keep costs at a minimum, a free CRM tool could be right for your business.In this article, we have compiled reviews on twelve CRM platforms that are completely free. We're going to compare each and every one so that you can see the benefits and the disadvantages. While a free software for CRM isn't usually going to offer the complex features you might find in one of those major CRM platforms like Salesforce or SugarCRM that cost so much, you'll be pleasantly surprised to find that there are a number of free CRMs in the marketplace that may provide all the features you need. These free CRMs are all especially useful if your business has clear and simple CRM needs. If you just want to help your small business maintain and massage the customer data and extract value from your prospects, then one of these free CRM options in our review could be just what you need.
As you read through this list, consider what your goals for CRM are. If you're just looking to organize your contacts a bit better, then perhaps any of these free CRM platforms could work for you. Also, keep in mind that some of these platforms would be more easy to scale if you ever decided you did need to go with a more robust CRM platform in the future. Some of these free CRM platforms are standalone, while others can work with other apps and offer a variety of package options for future reference.
1. SuiteCRM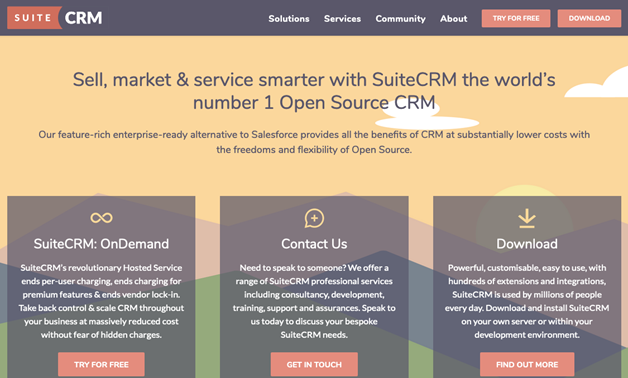 SuiteCRM is considered the top open source CRM platform and offers a variety of interesting features that users tend to gravitate towards. For instance, SuiteCRM offers freedom as an open source platform that lets users customize their CRM platform to their needs. SuiteCRM can also be integrated with a number of third party systems and applications thanks to their REST API.
As an open source platform, SuiteCRM is powered by a community that's constantly serving up new features and improvements to existing one, backed by top of the line testing to ensure a smoothly running platform. It's an excellent choice for the business wanting to build relationships with customers and prospects while also using collected data to carve out useful insights. With a myriad of built-in dashboards, users can enjoy a comprehensive view of their CRM.
Perhaps the best upside SuiteCRM has as a CRM platform is its ability to boost sales by helping users convert leads. SuiteCRM offers the tools necessary to get this done, from lead capturing to management to making the most of opportunities. It's perfect for the user who wants to better engage customers through personalized experiences, messaging, automated customer segmentation, and much more. Also, SuiteCRM helps boost customer satisfaction by putting information to the best use and giving customer service teams the tools they need.
One of the beautiful things about SuiteCRM is that it has always been free, and it always will be. Since it's an open source platform, you can rest assured that you are plugging into a community of like-minded professionals who are also working to shape their ideal CRM platform for a price that really can't be beat – free. There are no trials or up-sells – the entire platform is available at no cost to you.
SuiteCRM is flexible and ideal for businesses of all sizes, since it can be customized as needed. The users say that this is the only platform they trust and give it a nearly perfect rating.
Overall, customers are saying that SuiteCRM offers exceptional customer care, is easy to use, and offers an amazing value for the money. You can learn more about this platform at https://suitecrm.com/.
2. HubSpot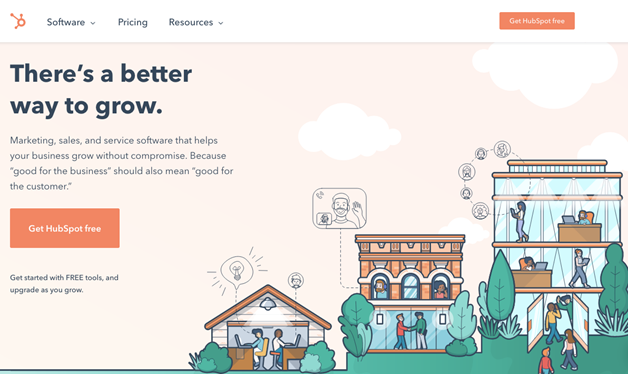 HubSpot is one of the leading American developers of inbound marketing, customer service, and sales software, and as such, they offer a CRM platform that is 100%, completely free of cost to businesses. Their free CRM platform allows unlimited users and, according to HubSpot, is free forever. Users can store up to one million contacts and companies within HubSpot CRM.
Within their free CRM platform, you can find contact management, contact website activity, companies, deals, tasks and activities, Gmail and Outlook integration, prospects, ticketing, ad management, a conversations inbox, reporting dashboard, documents, meeting scheduling, messenger integration, and much more.

As you can see, the free CRM platform from HubSpot is extremely rich in features. It also offers many features for marketing, sales, and customer service that include tools such as forms, email marketing, landing pages, quotes, live chat, calling, team email, conversational bots, and more.
HubSpot is routinely considered to be one of the best marketing solutions on the web today, and their CRM platform is robust for a free system. HubSpot CRM has received many perfect reviews from users who have enjoyed around the clock customer care, ongoing training, its ease of use, and a better bottom line thanks to the automation offered by HubSpot CRM.
HubSpot CRM is completely free, but their are some upgrades tailored towards productivity that can be purchased. Still, without any upgrades, the free HubSpot CRM provides virtually everything a business needs to get the most from a CRM platform.
Enjoy keeping your contacts all in one place, managing your pipeline, and keeping all of your lead information in a single space with the free and easy to use HubSpot CRM. You can see more at https://www.hubspot.com/pricing/crm.
3. Apptivo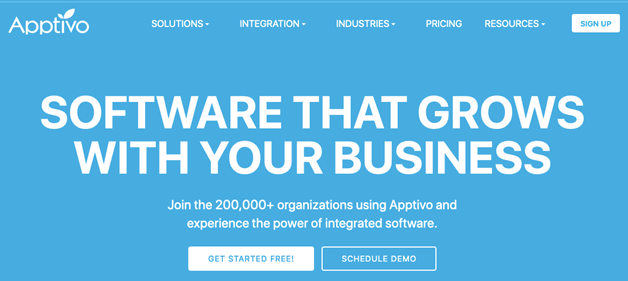 Apptivo is a highly rated CRM system offering a mix of free and paid options. We'll jump right in and discuss what free means when you're considering Apptivo CRM.
There is a free trial option that lets you try any of Apptivo's CRM tiers, which include premium ($8/month), Ultimate ($20/month), and Enterprise (contact them for a custom quote, and this is a great way to see what Apptivo has to offer if you're considering one of their paid CRM options.
One of their lesser known about options, however, is their FREE Starter package. In this package, you are limited to three users, basic contact sharing, standard reports, and standard support, but free is free. This could be a viable solution for the entrepreneur or small business who needs a CRM platform but doesn't need a ton of features or users.
Apptivo works with clients of all types and sizes, and they offer a number of features to reflect this capacity. To date, they have more than 60 business applications that can be configured to the needs of companies. If you need a powerful CRM system for managing sales, marketing, service, and more, the free version of Apptivo could very well suit your needs.
As it stands, users are commenting that Apptivo's customer service is a selling point – 24/7 service is available to offer assistance when you need it. Of course, you can't beat the automation that's offered by Apptivo and the various benefits this could offer your company.
Although it's not open source or solely free, Apptivo's free package does have a lot to offer. More information can be found at https://www.apptivo.com/solutions/crm/.
4. Flowlu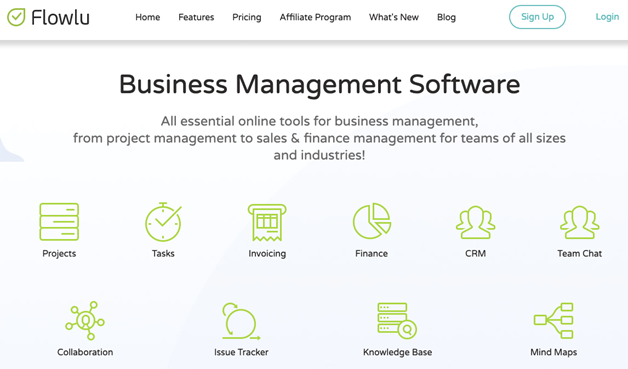 If you're looking for a straightforward CRM with lots to offer in terms of automation and keeping all your contact information in a single space, then Flowlu free CRM could be a great choice for your company.
Flowlu CRM offers several packages ranging from completely free (up to 2 users)  to $119 per month. Their free CRM package includes tasks and projects, cloud CRM, invoicing and payment processes, knowledge bases, online messenger, records management, finance management, and more. We think when it comes to free, that's not too bad.
As mentioned, it is cloud based, which offers the convenience of on the go use. You can track tasks that need to be done, log meeting and phone call notes, integrate with apps such as Google Drive and Zendesk, integrate with Paypal, Stripe, and Skrill, and take advantage of iOS and Android apps.
Flowlu CRM has high ratings for their customer service and online training information. As an all-in-one, Flowlu is an excellent choice for small businesses. It's easy to use with dashboards for insights and more. The free version is impressive in comparison with other free CRM platforms on the market today.
With that said, Flowlu's free CRM provides a great value for any business that just needs a few users to handle their CRM needs. If you ever decide to upgrade in the future, other packages start at $39/month.
You can learn more at https://www.flowlu.com/pricing/.
5. Bitrix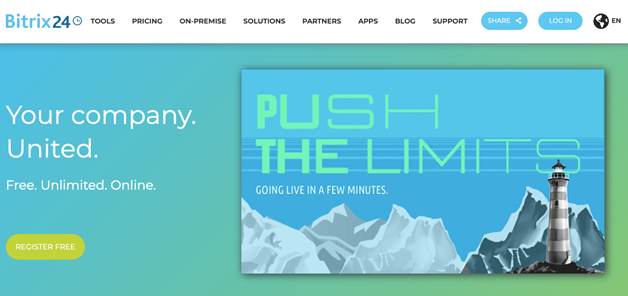 Bitrix is a highly rated CRM system, and it's available in 4 plans including Free, Basic (US $39/mo.), Standard (US$79/mo.) and Professional (US$159/mo.). As you might imagine, the Professional package is the largest and most comprehensive CRM package from Bitrix, but the Free package offers noticeable starter business tools. Users who choose the free option can take advantage of 5GB online storage, CRM, tasks and projects, communications, chats and video calls, an online store, contact centre, administration, and customer support in a lite format.
The starter package is FREE and offers some basic CRM tools, but the great thing about this is that it's ideal for the small business or solopreneur who wants to better manage their business without bulky features they don't need. The basic CRM in the free package entails unlimited leads, unlimited deals, unlimited contacts, unlimited companies, quotes, invoices, product catalog, custom statuses, timeline, convert lead to contact-company-deal, and much more.
The bottom line on Bitrix is that it is one of the best-selling CRM platforms today, offering an exceptional value for any company wanting to harness the true power of CRM to grow their bottom line. The free version offers everything you need if you're a small business looking to utilize some lite CRM functions. Plus, if you ever decide to scale up, you can take Bitrix CRM with you and scale up in packages in the future.
So far, clients note that Bitrix is a winner for its Kanban user interface, notifications, lead options, unlimited contacts, and more.
Aside from the truly free package, Bitrix does also offer a free 30 day trial of its Professional plan. More information can be found at https://www.bitrix24.com.
6. Zoho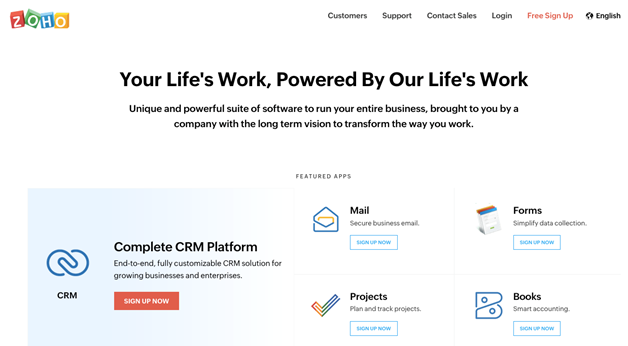 Zoho CRM is available in five packages: Free (3 users max), Standard (A$22/month), Professional (A$35/month), and Enterprise (A$60/month). Zoho offers you free trial options on their paid packages, so you can try any one of them for free for 15 days.
What will free get you? With Zoho, free means you get to take advantage of email ticketing, customer management, help center, a private knowledge base, predefined SLAs, macros, a multi-language help desk, mobile apps, and around the clock support on business days. Up to three agents can use Zoho within the free package.
Zoho's free CRM offers features for sales, marketing, and service with the integrations you likely need. The bottom line is that Zoho helps you provide customer service, and they feel that this shouldn't have to cost a ton. With their free CRM software, there are zero hidden costs and the package is free forever. There's also no credit card required for sign up. Big companies such as Amazon, Netflix, and Suzuki benefit from Zoho CRM, and the company is highly dedicated to helping extend their features out to small businesses an solopreneurs, too.
Zoho has a high rating from customers, who routinely note that the platform is easy to use, easy to setup, and has rich features. Apps make it even more exceptional.
What we love about Zoho is that it offers a wide variety of features that can leveraged by companies of all sizes and scopes. If you are a startup, you'll love how easy it is to get started with Zoho for free, and if you need to scale in the future, several other Zoho packages offer opportunities tailored to your needs.
See it now at https://www.zoho.com/crm/free-crm.html.
7. Airtable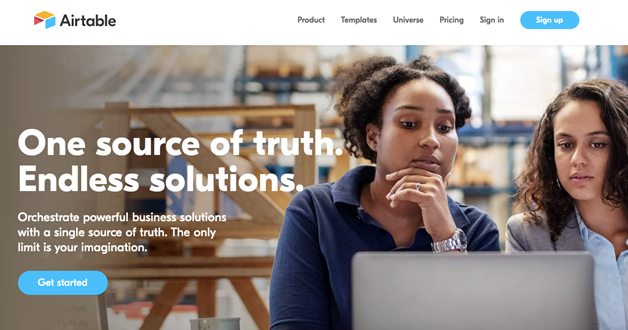 Airtable was created around the idea that software shouldn't determine how we work – it should be the other way around. With that mission in mind, Airtable has created democratized software for creators and creatives who use their systems for virtually anything that comes to mind from filmmaking to cattle tracking.
Airtable features the power of a database with a highly user friendly interface. Airtable has taken a new lead on CRM with a sleek interface reminiscent of a spreadsheet. Users can choose from four packages that start with FREE.
Within the FREE package are essential features: unlimited bases, 1200 records per base, 2GB attachment space per base, and 2 weeks revision and snapshot history. Additionally, the free Airtable package includes rich field types with file attachments, checkboxes, dropdowns, and more; views including kanban, grid, calendar, form, and gallery; apps including web, desktop, iOS, and Android; and realtime collaboration tools. 100 automations can be run per month with 2 week run history. With the free package from Airtable, you can also take advantage of e-mail support and their self-serve knowledge base.
If you need to scale in the future, other packages such as Plus ($10/mo. per user), Pro ($20/mo. per user), and Enterprise (connect with Airtable for custom pricing), offer upgraded functionality.
Airtable is a very highly rated CRM platform that takes an innovative look at the way CRM is carried out and works to make it better. It has been routinely named among the top workflow management softwares on the market for its all in one collaboration tools.
Users comment that Airtable is unique because it allows them to see their entire strategies at a glance and see collaboration in real time. It runs well, can be used on any device, and has a clean interface that users love.
You can learn more about it at https://airtable.com/pricing.
8. Really Simple Systems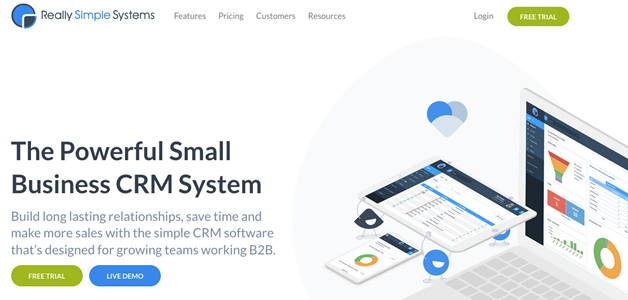 When it comes to leading-edge CRM, Really Simple Systems is at the lead of the pack. Equipped with the newest technology and rich features, Really Simple Systems is designed for small and medium sized companies that want to work smarter. If you're in need of a way to better manage and track leads and customers, Really Simple Systems is a wonderful CRM solution for a variety of industries. With built-in compliance for GDPR and HIPAA, Really Simple Systems makes it easy to get started with CRM, whether you only need their platform or need to integrate with other applications.
Really Simple Systems offers four packages, with the lowest tier being priced at FREE. For $0 per month, you can use Really Simple Systems for up to two users with features including up to 100 company records, unlimited contacts, 100MB document storage, and various tools for sales CRM, reporting, custom features, integrations, marketing CRM, service desk CRM, and more. Plus, you can take advantage of training and support including in-page help drawers, an online customer portal, video tutorials, live webinars, and e-mail and chat support.
Overall, we have found that Really Simple Systems is really appreciated by users. Users note that the company's customer service is excellent and that the Really Simple Systems CRM interface is simple to use. If you ever decide to upgrade in the future, larger packages include more features and come in at A$16/user per month for the Starter package; A$35/user per month for the Professional package; and $55/user per month for the Enterprise package.
A free trial is also available.
If you're considering a free CRM platform that could be scaled in the future and offers a sleek, easy to use interface for your CRM needs, then Really Simple Systems could be for you. Find out more at https://www.reallysimplesystems.com/crm-pricing/.
9. Freshworks CRM (formerly Freshsales)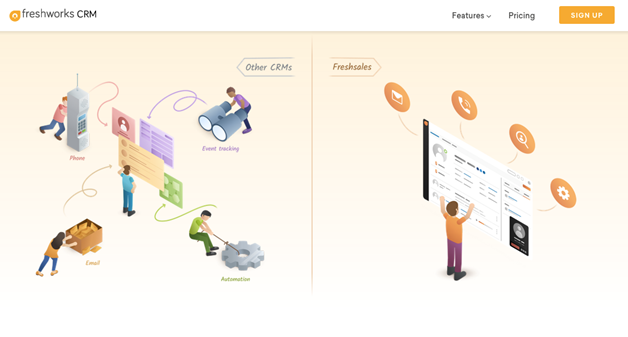 Freshworks CRM, formerly Freshsales, has a nearly perfect rating on Capterra from almost 500 users, and users tend to gravitate towards the fact that Freshworks CRM is simple and effective. Instead of needing five tools, you can just use one.
With Freshworks, there are three different editions for CRM: Customer-For-Life Cloud, Sales Cloud, and Marketing Cloud. There are also a few different packages to choose from: Growth (A$25/user per month), Pro (A$55/user per month), and Enterprise (A$99/user per month). When you scroll below these packages, however, there's a "hidden" option: the Freshworks FREE FOREVER Start-up plan.
With the paid options, you do get a more broad spectrum of tools such as contact and account management, forms, built-in phone and e-mail, workflows, sales sequences, Freshdesk integration, Freshworks Marketplace, insights, sales goals, metrics, custom modules, and more. With the free option, you can get a basic CRM platform that's ideal for lite needs. If you only need assistance in the arena of contacts and phone and chat, then you might just find that Freshworks CRM is ideal for your needs.
It's also worthy to note that Freshworks CRM offers a 21 day free trial in which you can test drive the fully loaded option. This could be a great way to see what one of the highest rated CRM platforms today has to offer. Even if you choose the free option, you could always choose to upgrade later when the time to scale comes.
Learn more about it now at https://www.freshworks.com/crm/pricing/.
10. Streak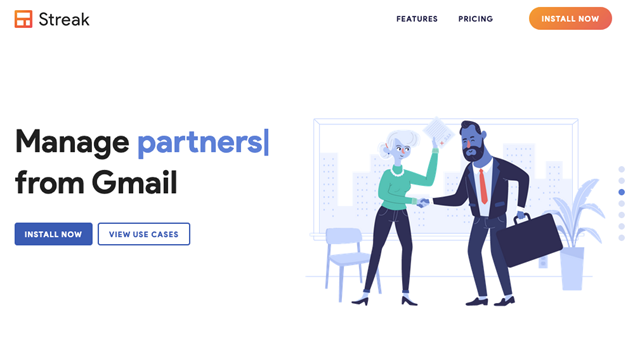 If you use Gmail, then listen up. Streak is entirely made for integration within Gmail! Plus, it works with all your other G Suite apps. It's considered an excellent choice in CRM systems for startups and small to medium sized businesses. Streak offers a meaningful and effective way to track sales, partnerships, support, and so much more within your business while also being extremely user friendly. If you've ever wanted or considered a CRM system built into Gmail, Streak might be the one you want.
Streak is designed for teamwork and comes at an affordable price. Packages include the FREE option, which is for "individuals trying out Streak for an unlimited period of time". Features include 500 basic CRM, 50 mail merge, and email tracking. Other packages include the Solo ($15/user per month); Pro ($49/user per month); and Enterprise ($129/user per month).
What exactly does FREE get you with Streak? Private pipelines, 500 boxes, 50 mail merges per day, e-mail tracking and snippets, G Suite integrations, mobile access from iOS and Android devices, autoboxing, tasks and reminders, call logs and meeting notes, custom columns and fields, and more.
This highly rated CRM platform is a great choice if you're just starting out, and the free package is a robust packet of core CRM tools. If you want to upgrade in the future with a paid package, Streak makes it simple.
Learn more at https://www.streak.com/pricing.
11. AgileCRM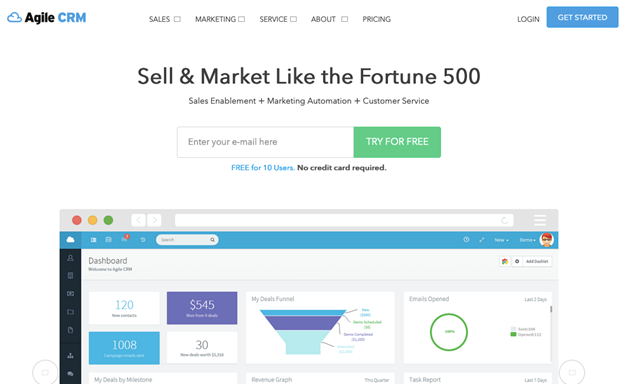 AgileCRM has been built from the ground up to provide companies with the tools they need for growth. Today, AgileCRM features tools for sales, marketing, and service designed to accelerate the growth of businesses with prices that start at FREE.
AgileCRM offers a few packages, but the FREE one is worthy of its own spotlight. While it's a lite version of the paid packages, we're surprised at how many features you actually get with AgileCRM's free version. For instance, the free version is free for up to ten users and includes marketing automation, an online appointment calendar, up to 1,000 contacts, web forms and popups, a free plugin of your choice, free email marketing, Google apps sync (yes, Gmail, too!), and deals and sales automation. While this all represents a great sampling of some of AgileCRM's best features, it also gives startups, solopreneurs, and small businesses a great opportunity to leverage a powerful CRM without having to pay the cost.
With cost in mind, it's worth mentioning that the paid options from AgileCRM are also more budget friendly than some other options. With three other packages – Starter ($8.99/month), Regular ($29.99/month), and Enterprise ($47.99/month) – you can always scale up your CRM platform if you need to. Paid options include features such as email campaigns, 50,000 contacts/companies, reports, 2-way telephony, 2-way email integration, a landing page builder, and much, much more.
Learn more about it at https://www.agilecrm.com/pricing.
12. Insightly
Insightly has consistently been in the ranks as one of the top CRM platforms available, and it does offer a number of packages tailored to fit the needs of various clients. Insightly brings an easy to use and powerful CRM platform to clients everywhere with features that let users seamlessly track sales, prospects, projects, and more inside a single platform. It's deployment includes its web based app and SaaS, as well as apps for iOS and Android devices. Training includes self-help online, webinars, and live online assistance, and support is available on the phone and online.
Insightly CRM features include a calendar and reminder system, email marketing, lead generation, marketing automation integration, quotes and proposals, territory management, task management, segmentation, mobile access, lead scoring, internal chat integration, and document storage.
Insightly pricing starts at FREE with a "no-frills" package that is free for up to two users. This is of particular interest to companies just starting out or small teams looking to work smarter, not harder. It allows to users to simply manage contacts, sales, and projects all in a single space. Of course, scaling up in the future is easy with three packages: Plus ($29/user per month); Professional ($49/user per month); and Enterprise ($99/user per month).
So, if you are looking for a free way to access some of the most powerful CRM tools on the web today without a huge price tag, Insightly offers a free package that can be upgraded to a more robust paid option later.
See all the details at https://www.insightly.com/pricing-crm/.
To Conclude…
CRM systems are no longer an option. Businesses of all sizes and scopes are finding that a CRM platform is mandatory to ensure the success of their bottom line. Automating daily tasks and better managing contacts alone can save a company time and money. When resources – including employees – are freed up, the company can better serve its core function and grow.
While there are plenty of performance KPIs that need to be met  in order for a business to succeed, CRM is one of the principal tools a business can use to streamline their operational, sales and marketing processes. For instance, reducing repetitious tasks by way of CRM automation can saves a huge amount of time and allows employees to perform other tasks.
The long standing problem with most CRM software is that it is notoriously expensive, and many small businesses, start-ups, and entrepreneurs simply don't have the budget to afford thousands of dollars per year to leverage the power of CRM for their organizations. Perhaps what's most challenging is the fact that most CRM platforms are billed annually. Even in cases where the monthly cost might be $15 or less per user, paying for CRM for the entire year for multiple users can have a major budgetary impact.
And many businesses frequently report this, stating that CRM is among their most expensive tech expenses. This is definitely a double edge sword. The expense takes away from the bottom line but the CRM system adds to it.
With any CRM, there are other areas that must be considered outside of cost. For instance, your users must be able to actually use all of the features in order for your company to get the biggest advantage from your CRM. When features are not used , you've wasted money. An application might be cheaper than other providers – but if it isn't user friendly – it will actually be more expensive.
The time it takes to train users can be a bit of a headache initially, but the final return on investment is clear. When your users know how to fully utilise the CRM platform you've chosen – and they happily use the application –  that's when your company will get the most from your CRM.
The key to getting the most from a free CRM platform is to investigate each for yourself to identify which CRM platform is going to be the best fit for you. While this list offers a dozen different ideas for free CRM platforms, that doesn't mean that they will all be a great fit for the needs of your company. We encourage you to carefully explore each and every one to find the one that's right for you.
Keep in mind, it can be difficult to transition from one CRM to the next, so it's always best to make an informed decision in the beginning. We recommend choosing a platform that you like, even when it comes to its paid packages, so that in the future, if you decide it's time to upgrade, you can do so with as little fuss as possible.