Intro to CRM
Welcome to our guide on the top 20 CRM solutions for small business. As a small business, it's imperative that you continuously have a solid stream of revenue, which can be built in a number of ways. One of the ways you can strengthen and grow your small business, or the business of one of your clients, is through CRM.
What is CRM?
CRM refers to customer relationship management, which is carried out with a software that has the capability of managing numerous areas of your business in terms of your customers and even your teams. In fact, this technology is used to manage all of your company's relationships and all of your company's various interactions with customers and prospects. CRM software tools include things such as contact management, sales management, and productivity tools. The overall goal of CRM? To consistently "work" your business relationships, allowing you to get the most from each and every person that interacts with your business.
What are the Benefits of CRM?
There are a number of benefits that can be gleaned from CRM. For instance, CRM is a wonderful and efficient way to build stronger relationships with your customer base while increasing revenue. You can also count on CRM to improve your team's collaboration, as well as make it easier to convert prospects to sales. CRM is helpful for automating everyday tasks, which lets you get the most from your resources, and CRM increases the amount of analytical data and reporting you get so that you better understand your customers and prospects. This means that you can better react to what your prospects want so that you can help them make the decision to convert into customers. If you want better knowledge of your customers while also streamlining various aspects of your sales and customer relationship arenas, then it's time to consider CRM for growing your small business.
What to Look for in a CRM Solution
No two CRM solutions are made the same. That means that every CRM software is going to offer something different, and so you've got to decide which one is the best for you. For instance, you should consider whether or not you'll need customization, training, or ongoing support. In addition, you should decide if cloud or on-premise CRM is best for your small business Tools such as revenue tracking, data collection, automation, custom reports, mobile access, and sales process tools could all be highly beneficial to your small business. In addition, finding a CRM software that's easy to use and can easily be integrated with your existing apps should be a priority.
Top 20 CRM
1. Salesforce CRM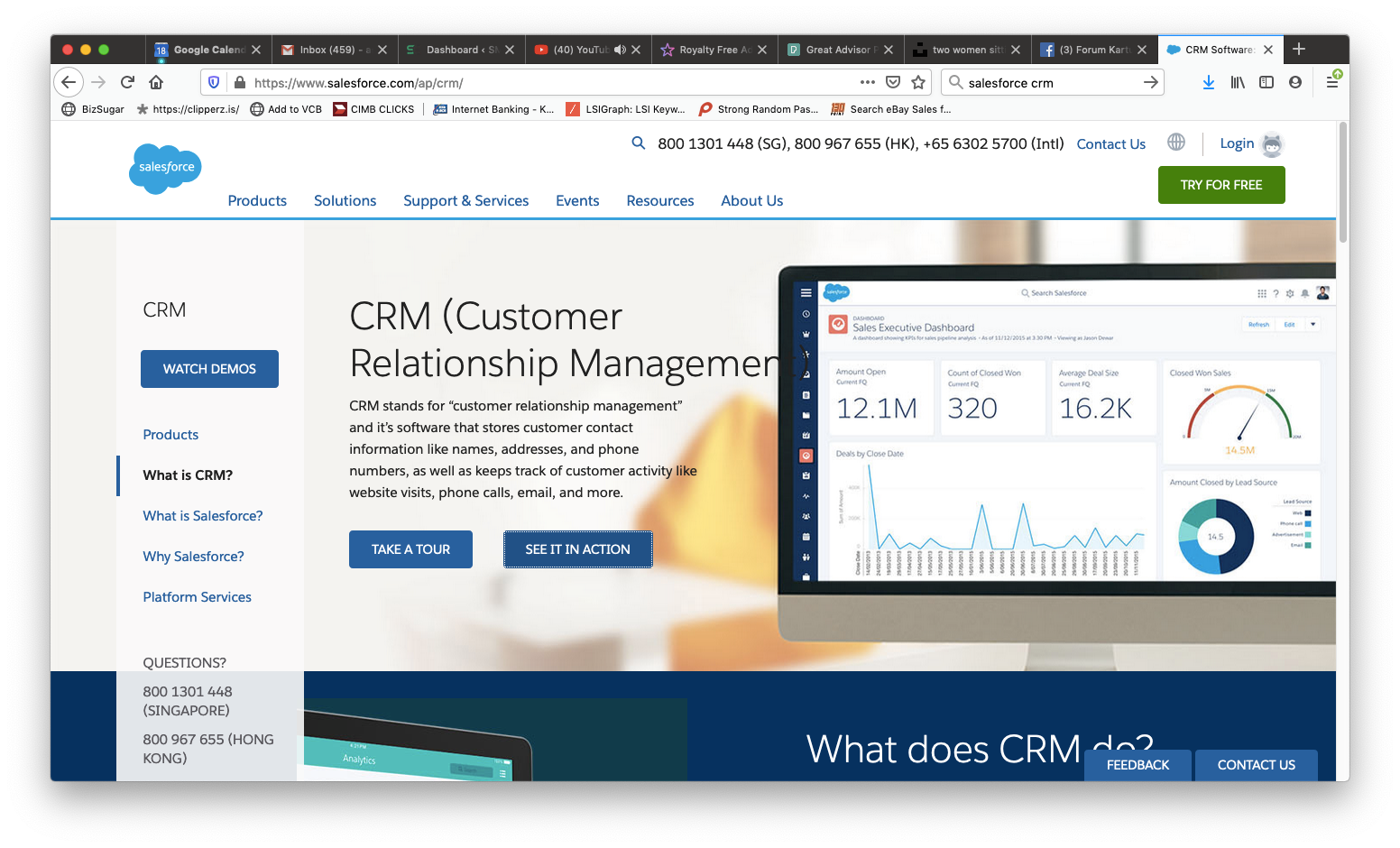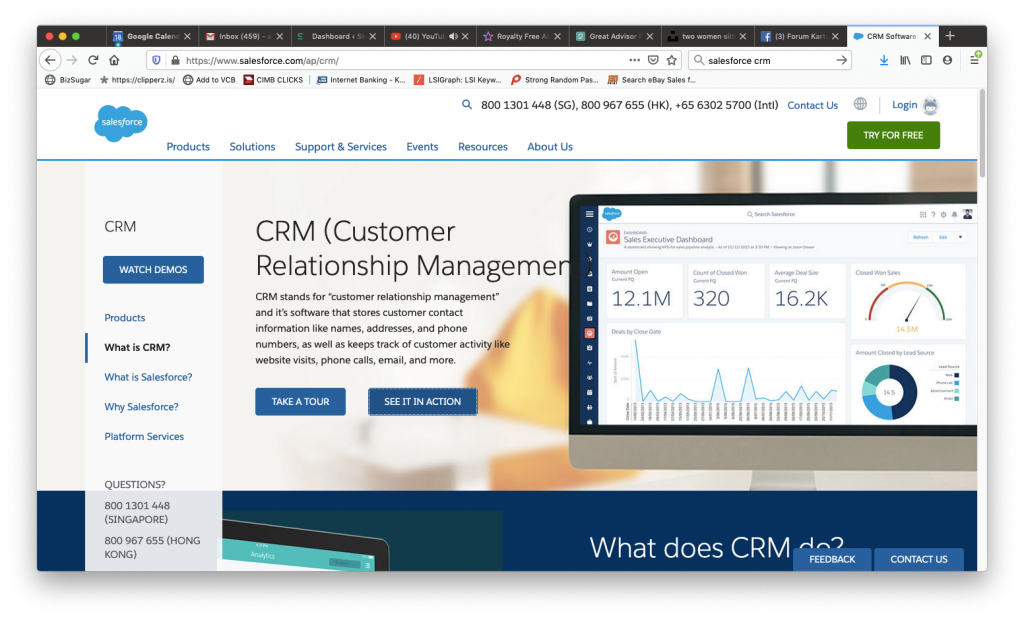 Overview
Salesforce is considered the best when it comes to CRM and is well known to offer features that help businesses increase sales by automating tasks, managing leads and contacts, and manage sales opportunities. Features ranging from custom reports and dashboards to the streamlined mobile app make Salesforce a top choice. Plus, its cloud model is highly sought after, seamlessly serving multiple users and industries.
Pros
Advantage of Salesforce include its cloud platform and streamlined compatibility with other apps. Salesforce is especially easy to use and roll out. Plus, its automation features are truly world-class.
Cons
Salesforce offers customization, but it comes at a price that can be hefty for small businesses. In fact, while Salesforce offers a long list of features, it can actually prove to be too complicated for some small businesses. We find that tech support can be slow at times, also.
Verdict
With knowledge of how it works, Salesforce can be used to increase sales and simplify the roles of sales teams. It can be more than what some small businesses need, in terms of function and price, but it's considered the best in CRM for its amazing design and robust capabilities.
2. Zoho CRM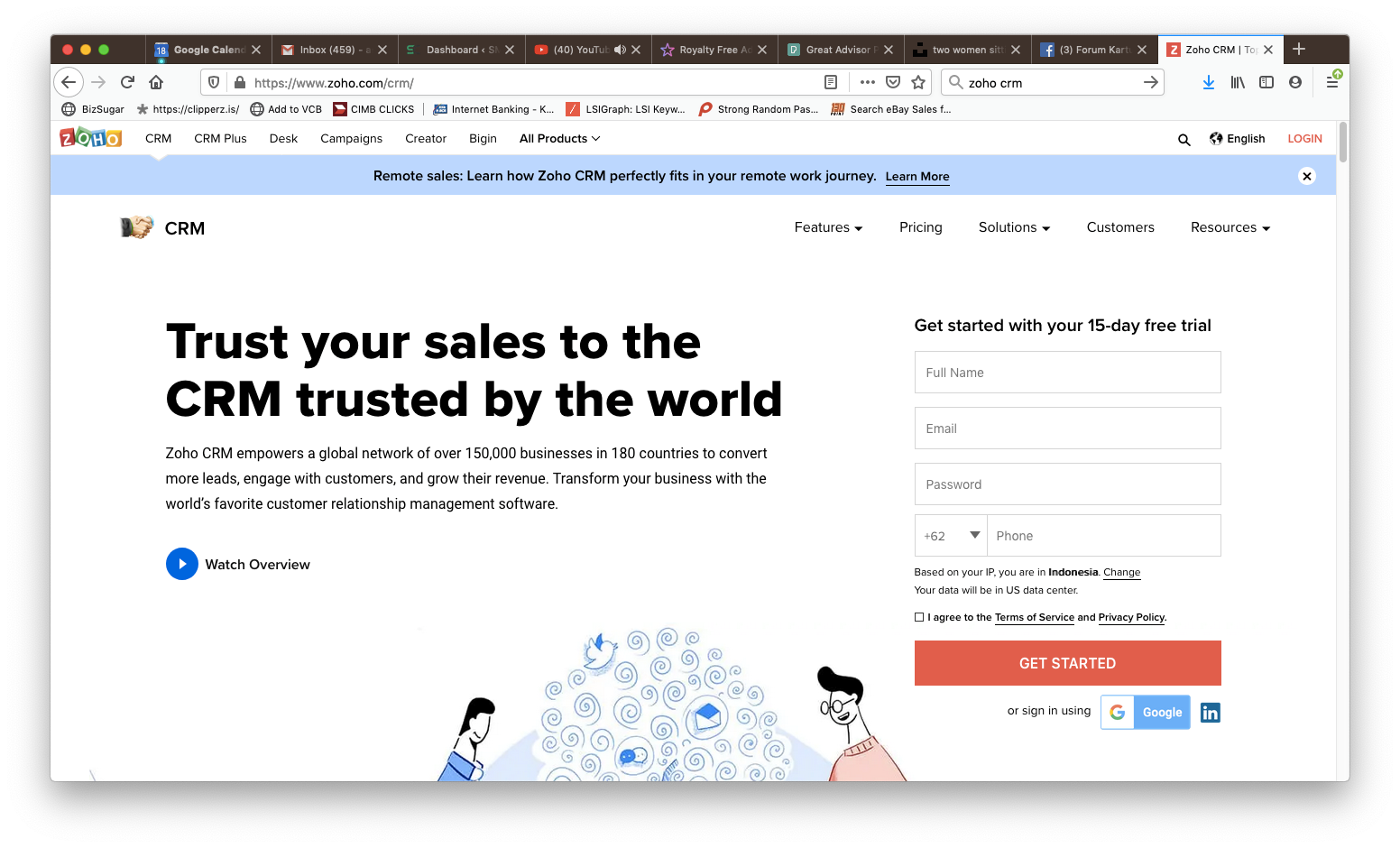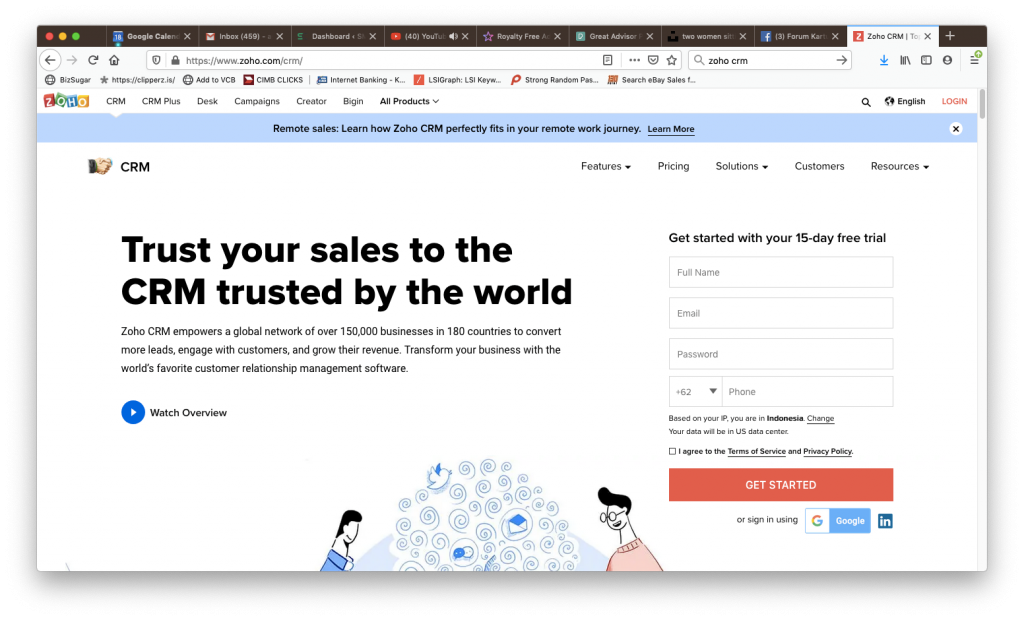 Overview
Zoho CRM is one of the most sought after CRM platforms, offering a web-based system with an emphasis on lead and contact management. With Zoho CRM, you can expect sales pipeline management and purchase control, and Zoho CRM is definitely a top choice for its automation, customer engagement, and sales tracking.
Pros
This award winning platform is known for its amazing customization options, as well as for being very easy to integrate through Zoho Marketplace. This easy to use platform even offers automatic lead creation from social media mentions, which is invaluable!
Cons
Zoho CRM's tiered pricing can be pricey, especially for small businesses, and it includes pricing per user as opposed to for your group. Not all reporting features can be customized. Also, if you're needing technical support, be aware that the tutorials don't cover it all, and tech support isn't available around the clock.
Verdict
Zoho is known as one of the leading choices for CRM, offering a plethora of other products that can easily be integrated. Any business or entrepreneur looking for an easy to use, comprehensive CRM platform that will make the most use of every customer and prospect interaction can use Zoho CRM to their advantage.
3. Hubspot CRM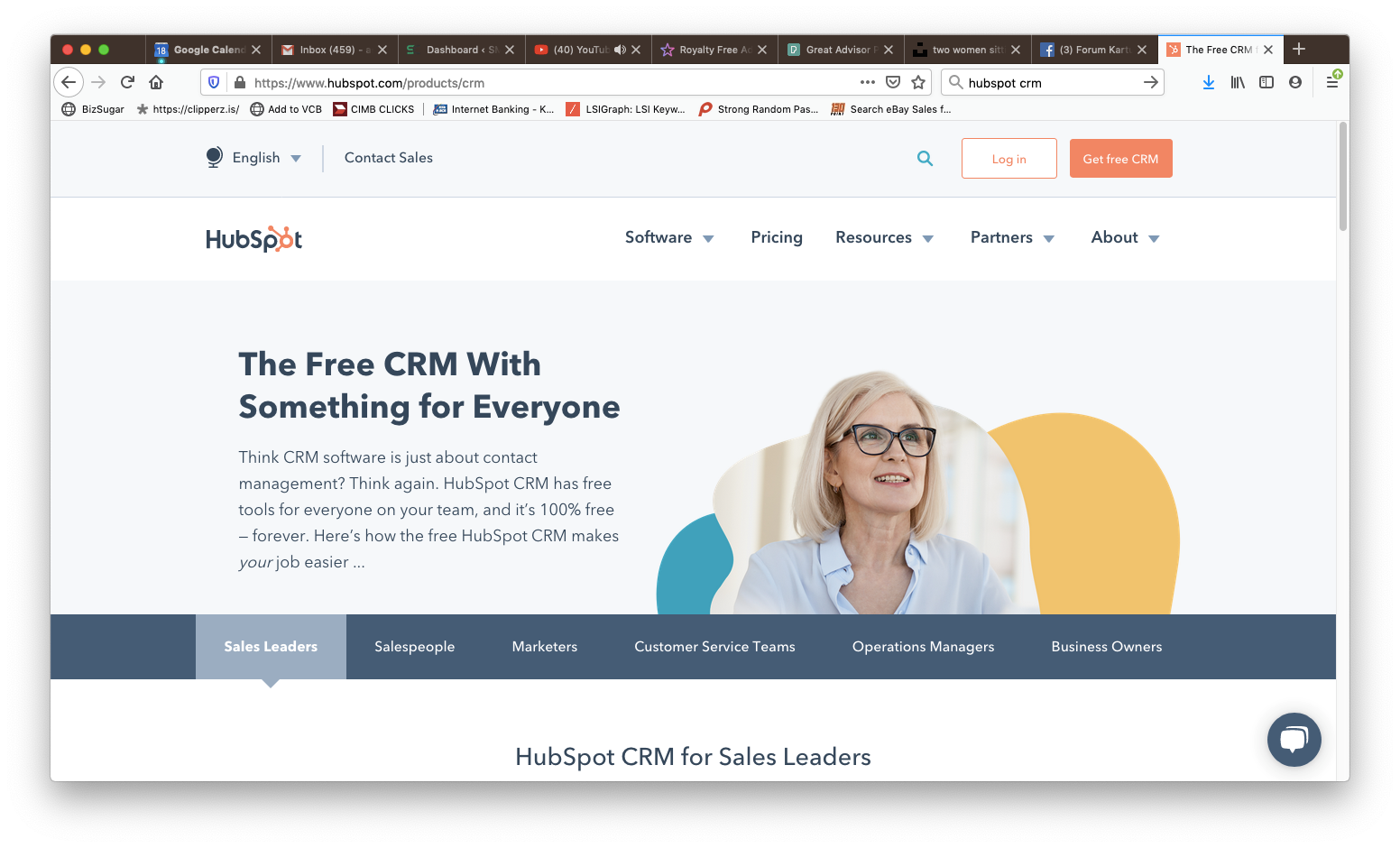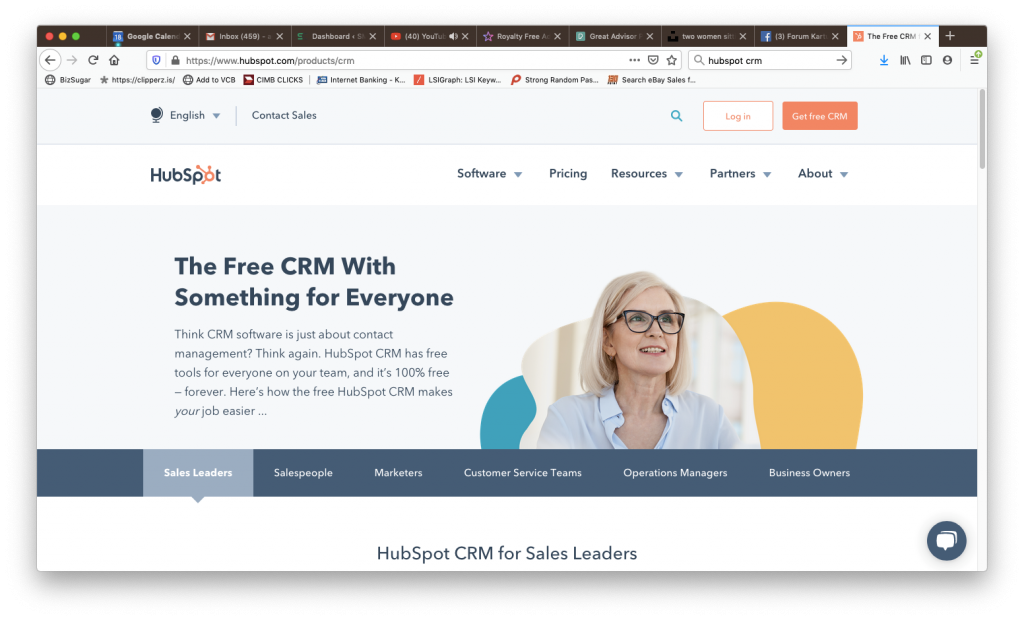 Overview
HubSpot CRM is a quality CRM platform from a name clients trust. This is an excellent choice for small business customers looking for a cost-effective solution. HubSpot CRM integrates with other HubSpot products and comes with free version of Marketing Hub, Sales Hub, and Service Hub products.
Pros
Perhaps the biggest benefit of HubSpot CRM is that there is a free version available. HubSpot CRM features second-to-none email integration, an intuitive interface, and customer support you can rely on.
Cons
HubSpot CRM offers premium functions, but they come at a cost. Some of the reporting that comes from this platform is relatively basic in comparison with other CRM systems. Since HubSpot CRM is a newer system, you won't find all of the features you'd find with other CRM platforms, and HubSpot CRM isn't generally as flexible as other platforms.
Verdict
While it might not be the perfect choice for all businesses, it's got a price tag of zero for businesses on a shoestring budget. HubSpot CRM is a powerful platform for building and managing email lists, and while it's not as robust as some of the other CRM platforms out there, it's certainly a reliable platform.
4. Insightly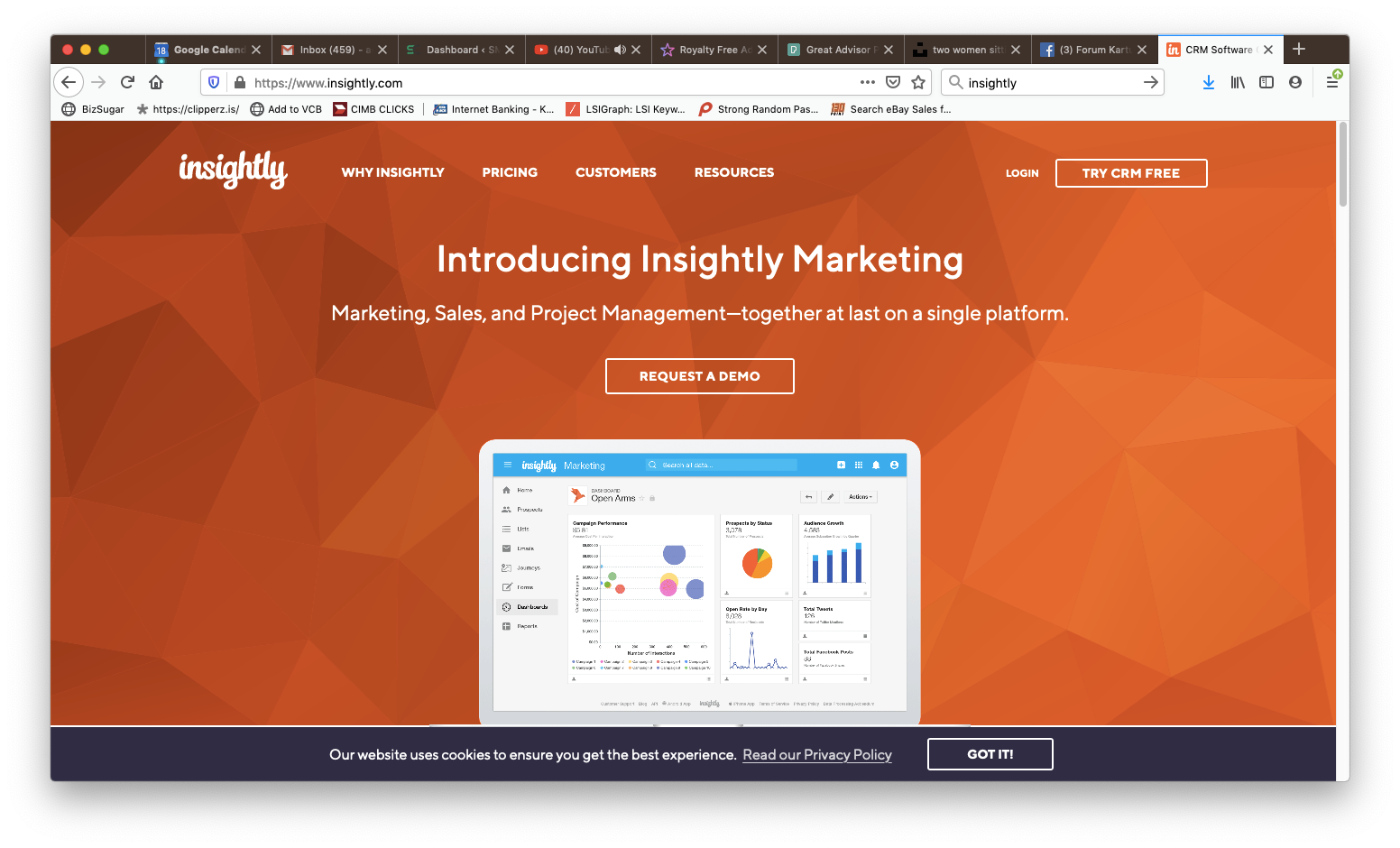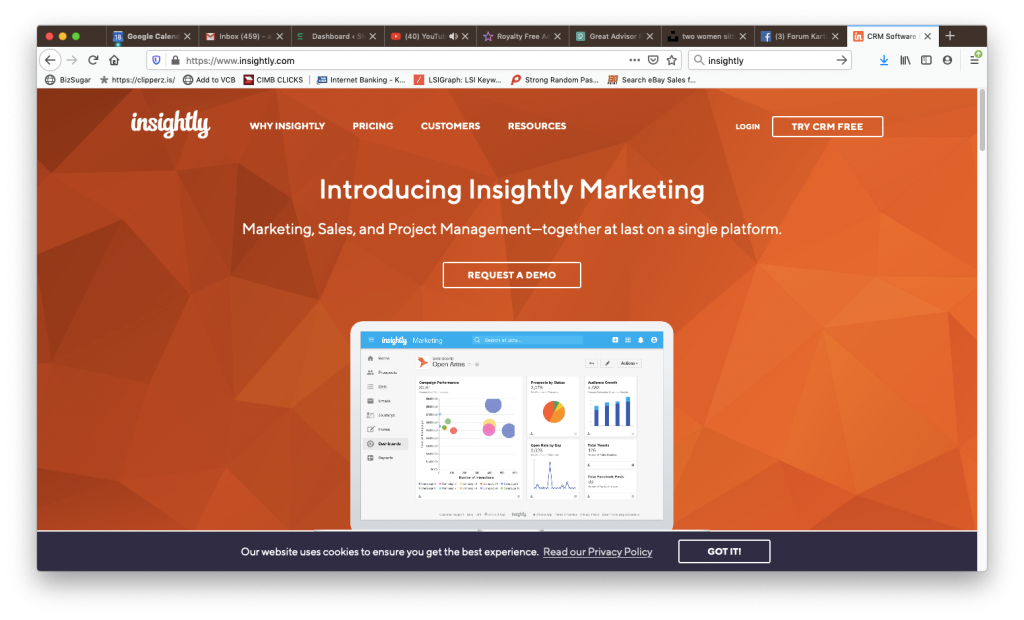 Overview
Insightly offers a wealth of featuring for gathering data and implementing it into other apps, which truly makes this CRM a great player in the CRM space for a cost-friendly rate. For small and medium sized businesses looking for a CRM solution with robust features, Insightly is a go-to.
Pros
Insightly offers a number of benefits that its users love, including the ability to create web forms and capture their leads; easy sharing with multiple contacts; seamless contact management; and built-in email tracking with templates. For small and medium sized businesses looking for a reliable CRM system that's also cost effective, Insightly is a great choice.
Cons
Insightly does have some downsides, such as the fact that it doesn't feature automatic email forwarding or pipelines for leads. In addition, a higher priced plan could be required for some features, such as lead assignment rules. Insightly's integration can be splotchy at times.
Verdict
All in all, we think Insightly is a highly efficient and well designed CRM platform. With robust features such as advanced automation tools for managing your sales team and pipeline, Insightly is a solid choice for a CRM platform.
5. Nimble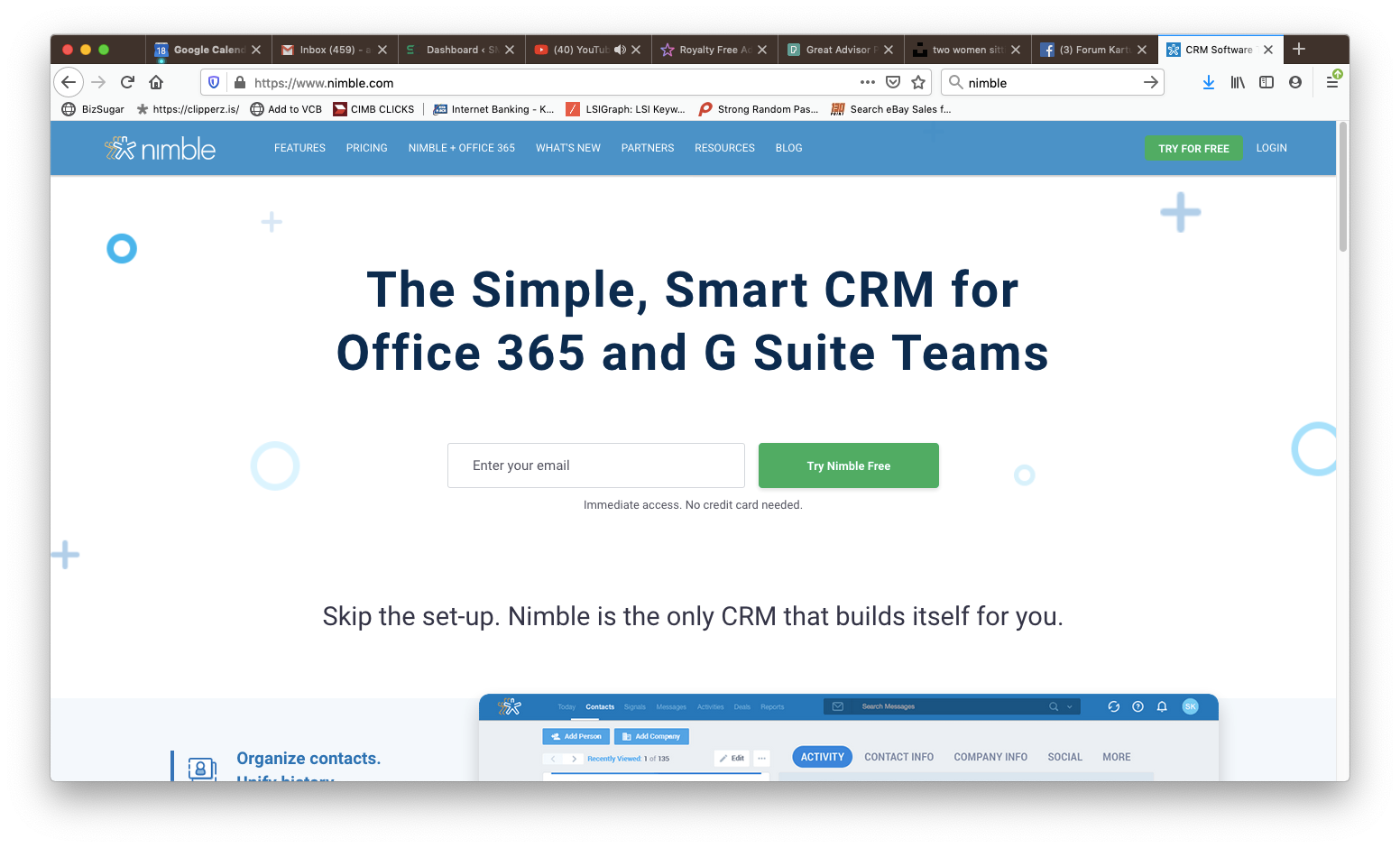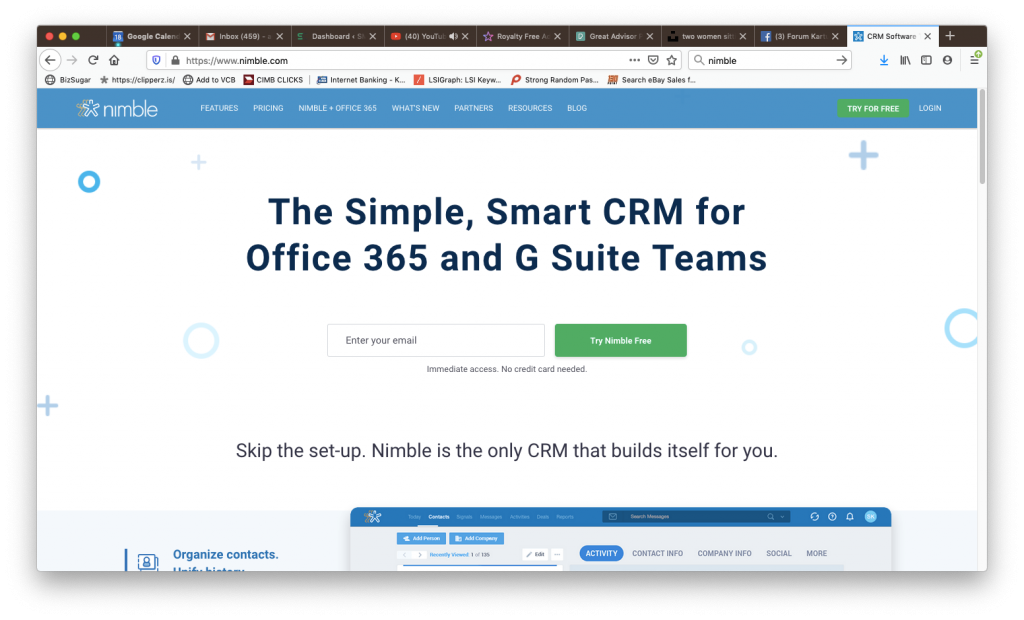 Overview
Nimble's CRM platforms starts at $15 per month and offers a solid system for keeping track of communications and consolidating contact information in one place. With an emphasis on social media, Nimble does an excellent job of extracting and implementing data from social media mentions and engagement. This browser widget and mobile based platform is a top choice for small and medium sized businesses.
Pros
Nimble features a long list of integration options and exceptional customer service. This CRM platform is easy to use, to the delight of its many users. The Nimble "Today Page" is a favorite for many. This page offers an overview of daily activities and a snapshot of engagement opportunities based on social media mentions.
Cons
With all of its social media features, Nimble sadly neglects to offer Facebook message integration. Nimble also does not offer email tracking, and users can only take advantage of one pipeline. Some menus can be difficult to find within the Nimble interface.
Verdict
Overall, we see Nimble as a wonderful CRM choice for small and medium sized businesses. With a comfortable price point, the value of Nimble is the real win here. The tools offered for lead generation and the platform's ability to get the most from client communications make it a go-to for CRM.
6. Apptivo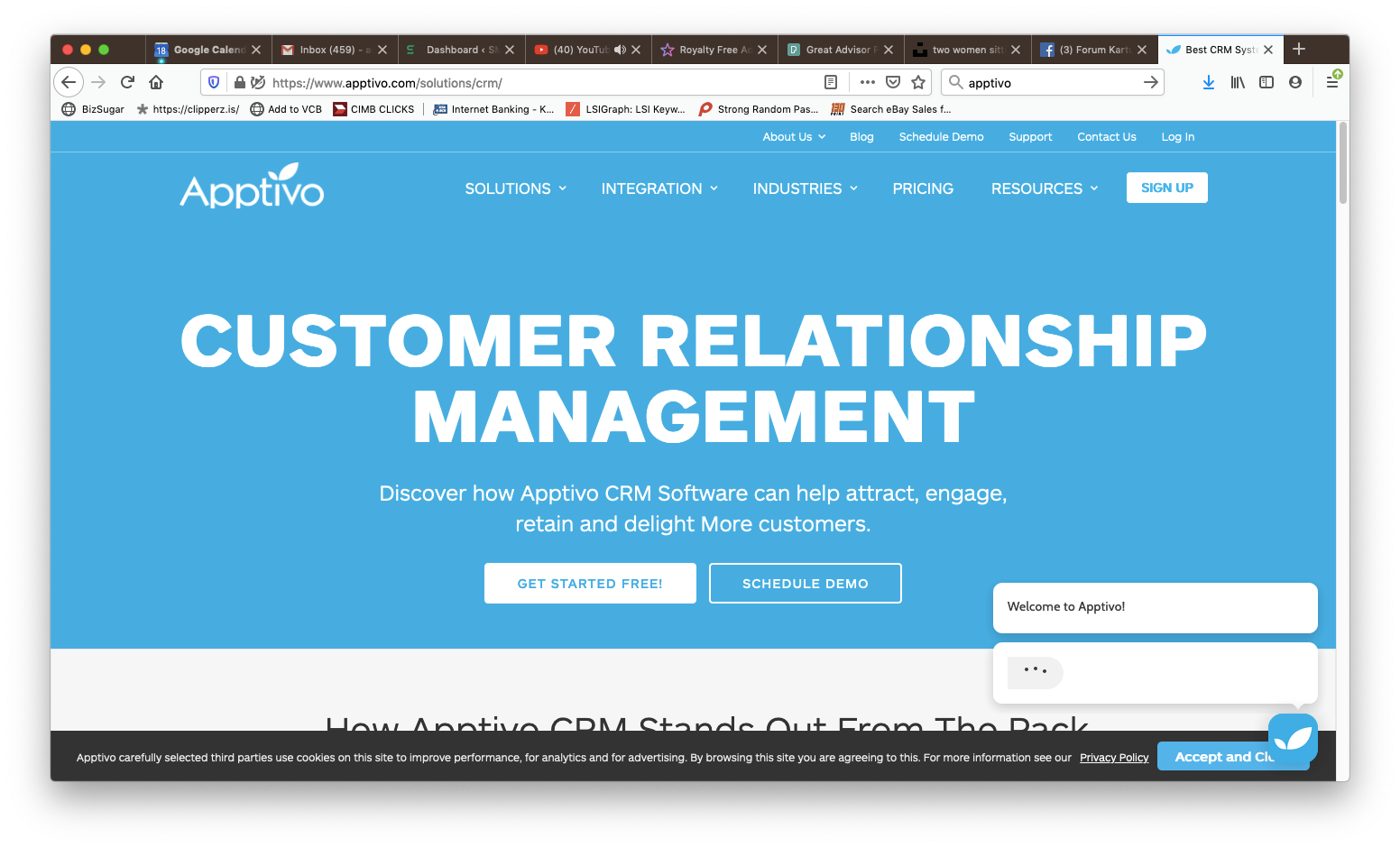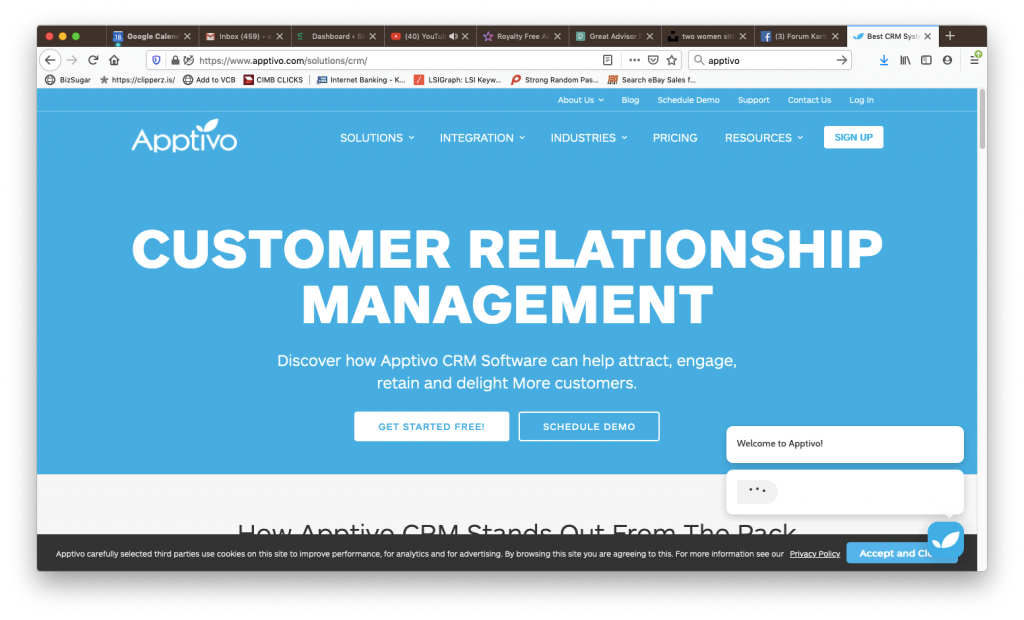 Overview
Apptivo offers a powerful online CRM platform that allows you to easily manage aspects such as sales and marketing all in one place. Apptivo's suite of business tools can be integrated with the CRM platform, and everything from Apptivo can be integrated with Office365 and G Suite, and Android and iOS apps make accessing everything a cinch.
Pros
Apptivo is an affordable CRM solution for businesses of all sizes. Starting at $8 per month, it's hard to pass up. Around the clock support is available, and built-in security is a plus for users. Rich features, including tools for workflow and campaign management, are exceptional, and Apptivo can be customized to your needs. It's hard to pass up Apptivo!
Cons
The list of cons for Apptivo is relatively short. One thing to keep in mind is that Apptivo isn't as easy to integrate as other CRM systems. For instance, the list of third party apps Apptivo integrates with isn't as long as with other CRM platforms. Also, Apptivo can be hard to use at times, but we should point out there are elearning opportunities available.
Verdict
We think the pros far outweigh the cons when it comes to Apptivo. This comprehensive CRM tool comes with a free starter version, ideal for trying it out. Apptivo is great for scaling, and on-the-go access with Apptivo mobile apps is a wonderful benefit.
7. Pipedrive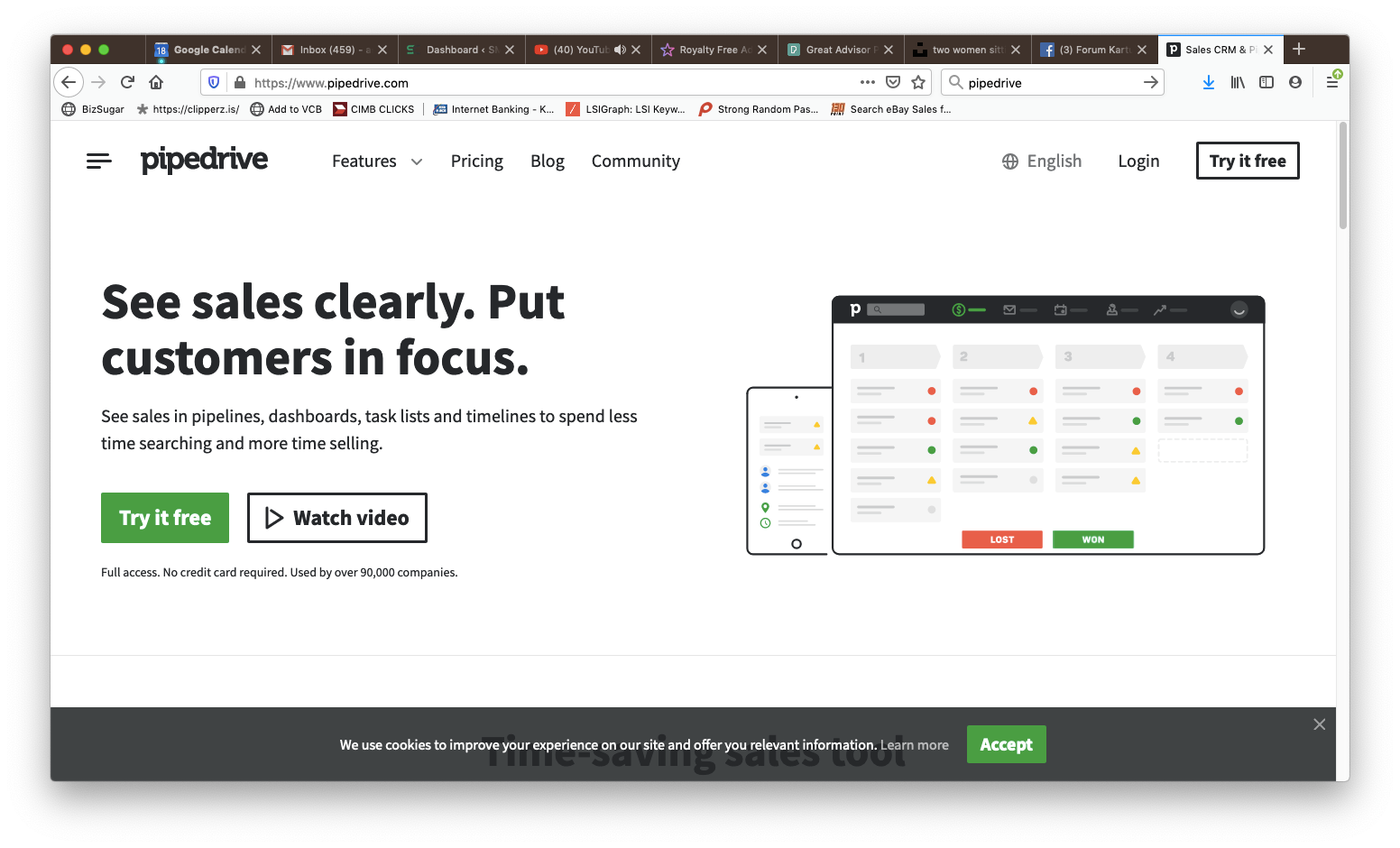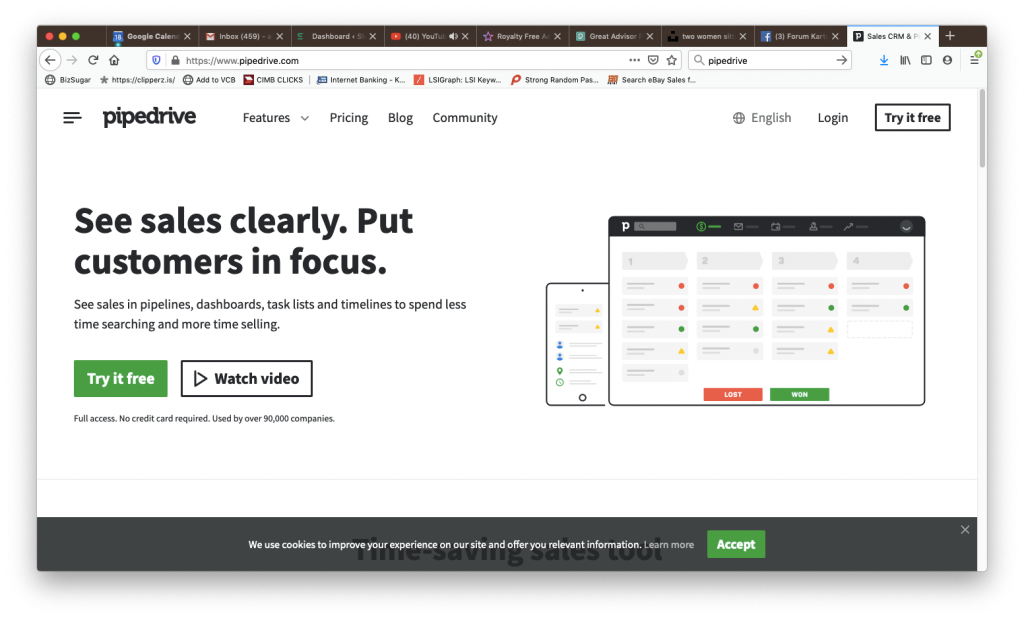 Overview
Pipedrive is a sales-focused CRM platform that's excellent for small teams that need little tech support. Pipeline includes tools including management and sales reporting, as well as sales forecasting, built right in. If you are new to CRM, Pipeline offers an exceptional solution.
Pros
We like the price point of Pipedrive, which begins at just $12.50 per month. There aren't any contracts, so you aren't locked into a commitment. Pipedrive is easy to use and easy to get started with. The mobile apps offer on the go use. In addition, web forms for capturing leads and the ability to create multiple pipelines are great benefits.
Cons
We couldn't help but notice some of the limitations in Pipedrive. This platform is missing some of the features found in other CRM systems, such as the ability to dial calls directly. There aren't any project management tools. Also, lists of new leads and contacts are all merged.
Verdict
Altogether, we think Pipedrive to be a great choice for a first-time CRM system. Although it has limited functionality, it can be a great solution if you have a small team with minimum needs.
8. Zendesk Sell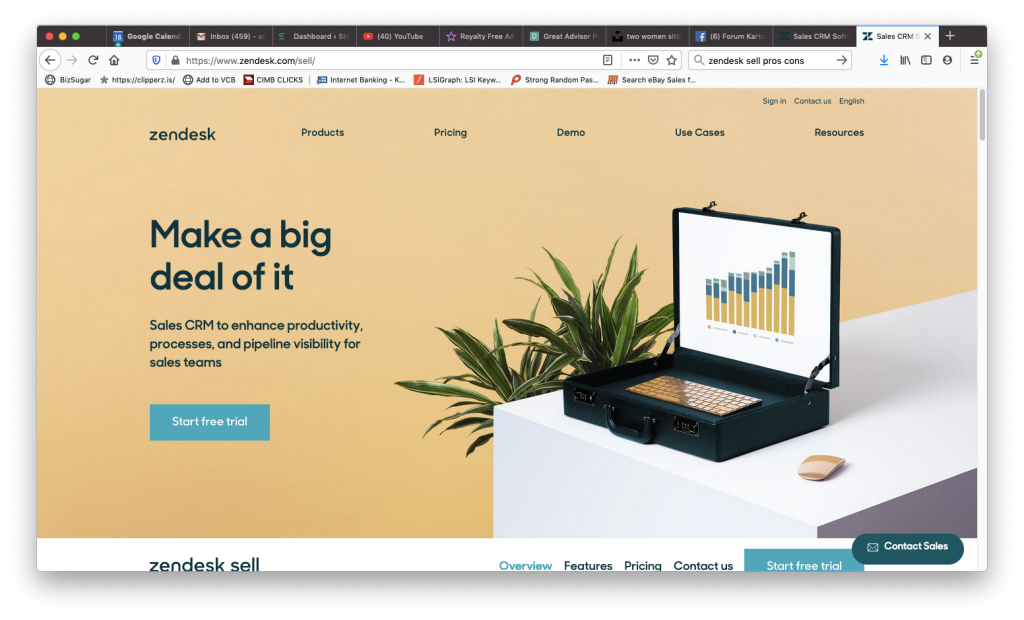 Overview
Zendesk Sell (formerly Base CRM) empowers sales people by removing the friction caused by deal updates. Sell ultimately presents sales reps with relevant deal data that can be accessed and analyzed. This sales CRM platform delivers advanced features such as lead management, deal tracking, and collaboration tools.
Pros
Zendesk Sell is streamlined and fairly easy to use. We like that free training is offered, as well as top of the line mobile apps. Predictive analytics reporting really makes the sales CRM stand out, as well as its overall management of inbound leads and good integrations with other apps like Mailchimp and Pandadoc.
Cons
There are few downsides when it comes to Zendesk Sell, but we did find that it offered limited customization, reporting, email automation, and marketing integrations.
Verdict
Zendesk Sell is perfect for sales teams wanting to track leads closely in the sales funnel. The CRM offers plenty of features, particularly in term of creating and tracking leads, deals, contacts and companies. Probably the most disappointing fact is the CRM's lack of automation, especialy in client communication (can be done, but via the integrated third-party platforms.)
9. Creatio
Overview
Creatio CRM offers a unique blend of CRM and BPM (business process management), offering tools that can be used for managing marketing, sales, and customer service. Creatio is a wonderful choice for midsize and large companies, and this highly rated CRM platform truly offers it all.
Pros
Creatio is very easy to use and can be quickly set up and implemented with an out-of-the-box approach. Users can interact with customers and leads, as well as follow various projects and profiles right in the system. Creatio customer service is another plus!
Cons
We found very few cons with Creatio, although we have to stress that it's better suited for larger companies. There is some coding required for the creation of forms, and we think the email marketing side could be a little smoother.
Verdict
All in all, Creatio is a wonderful CRM platform offering features such as collaboration, BPM, lead management, mobile CRM, analytics, and much more. This, along with its streamlined interface, make Creatio an excellent choice for CRM.
10. Freshsales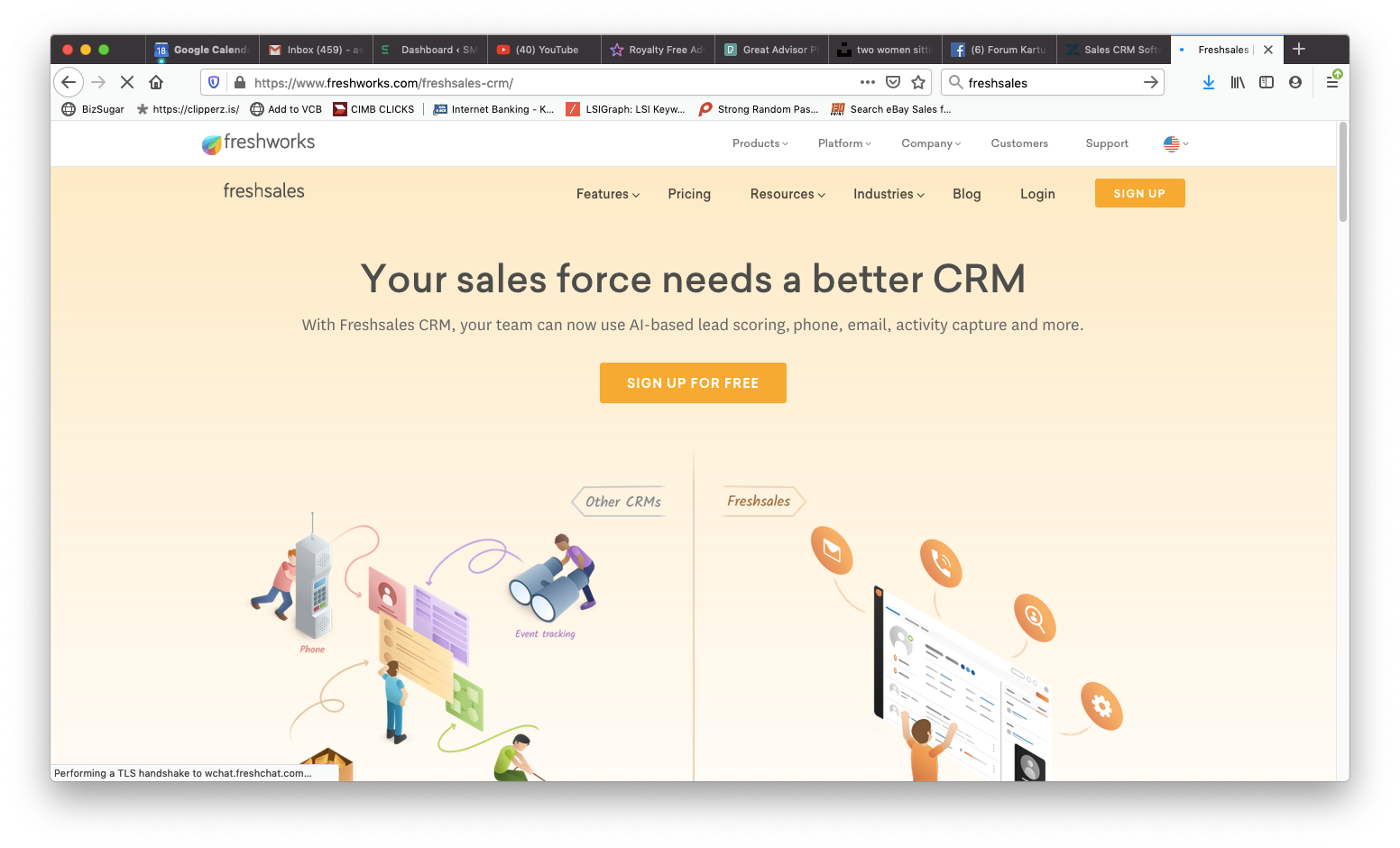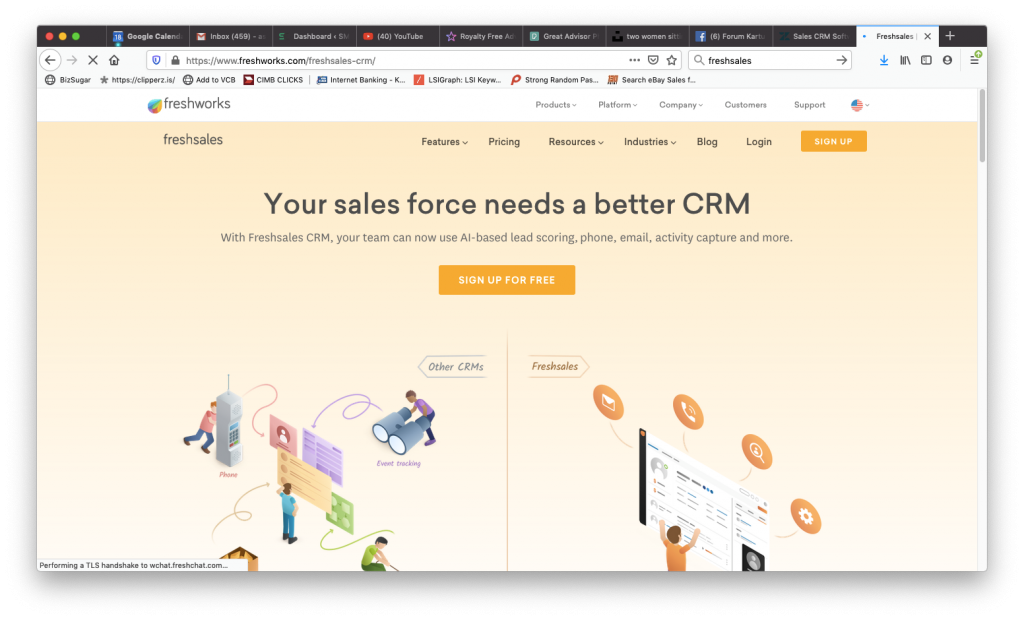 Overview
Freshsales offers a CRM platform designed for small and medium sized businesses. It gives users an easy to use platform that's reasonably priced, and it comes with plenty of powerful tools with integration for 70+ apps.
Pros
Freshsales is affordable for SMBs, with a free version even available. The platform's intuitive interface makes it easy to get up and running quickly. We really enjoyed the level of customization available, as well as powerful tools including the mobile app, built-in phone with recording, and AI based lead scoring.
Cons
While Freshsales can integrate with some apps, it doesn't offer as long of a list of possibilities as other CRM platforms. Also, while the free plan is a great option, there's no reporting available. We also found that there were few tools for lead generation.
Verdict
Freshsales is a really strong option for a small or medium sized businesses needing powerful tools on a budget. While there are some things lacking, we think overall, this is a really nice option for any company looking for ease of use and strong features.
11. Bitrix24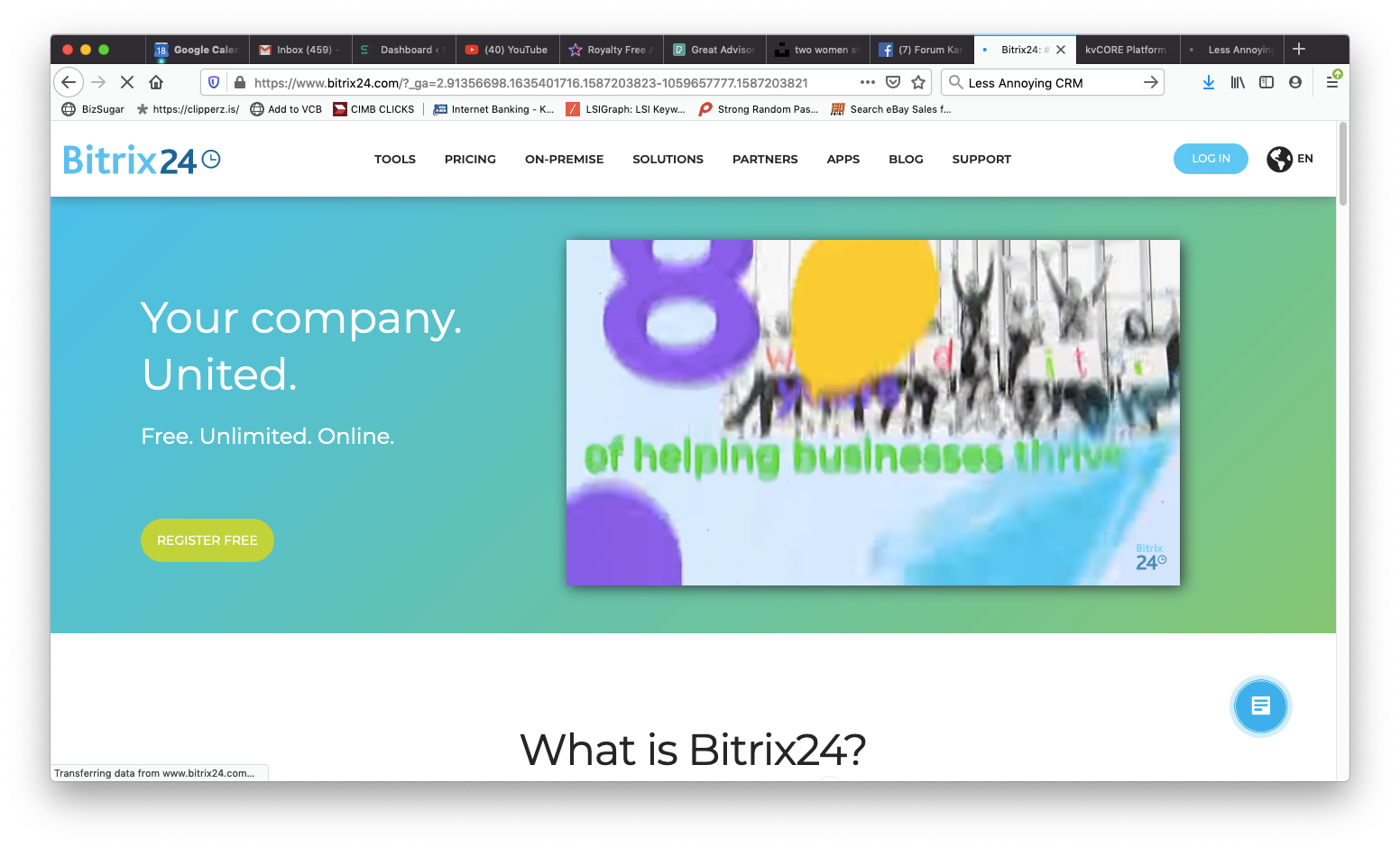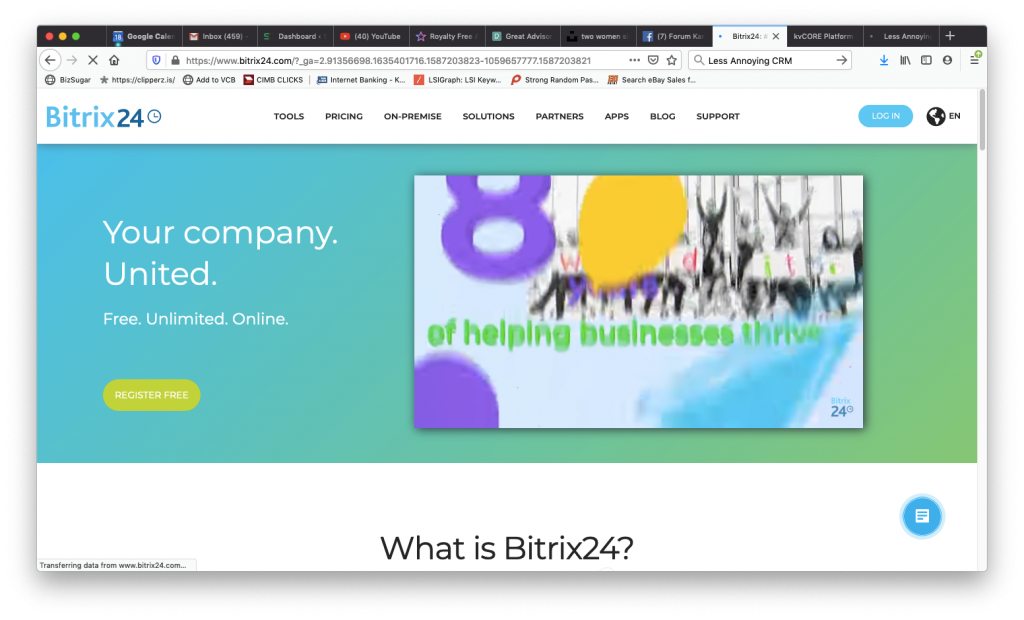 Overview
Bitrix24 is a highly rated CRM platform that offers an impressive array of lead management tool and automation features that are truly tailored for small and medium sized businesses. With software automation, file sharing, and email marketing tools on board, Bitrix24 is a favorite CRM for many businesses.
Pros
Bitrix24 is free for up to 12 users, which is a really nice benefit for small businesses and startups. Also, real-time notifications give you insight into tasks, activities, and more. Unified tools for managing contacts, messages, projects, and files are impressive, and with web-based and app support, you can handle CRM seamlessly.
Cons
While there really aren't many downsides to using Bitrix24, there is one big one. The interface is complex and takes some time to learn. After all, you've got to learn to navigate through a long list of features.
Verdict
Although it's not the easiest to use, Bitrix24 offers all the tools any small or medium sized business could want, and for up to a dozen users, it doesn't cost a thing. Once you learn the system, you've got a wealth of CRM opportunities at your fingertips!
12. kvCORE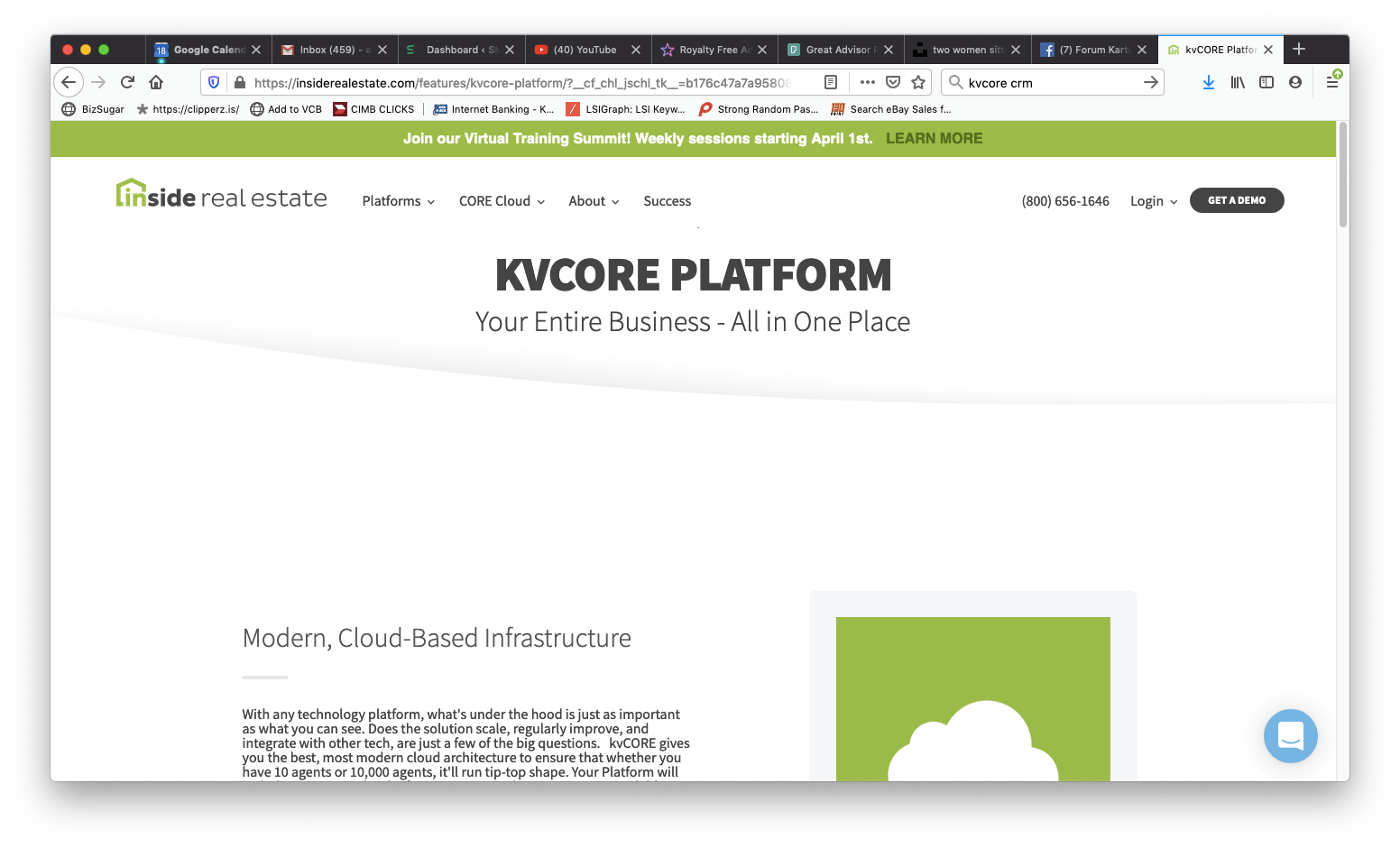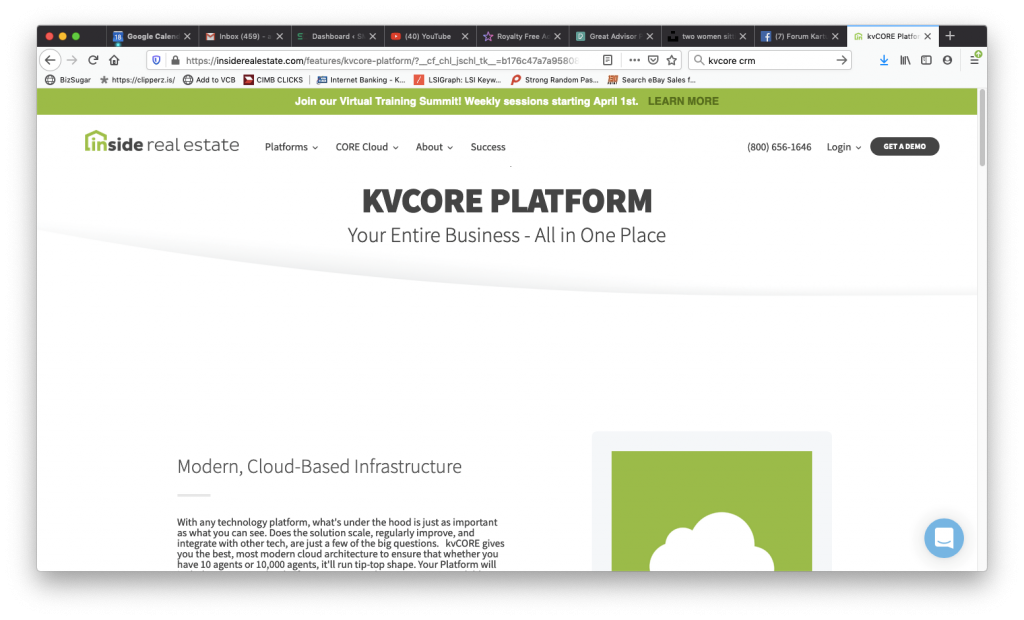 Overview
kvCORE is a cloud-based CRM system designed specifically for those in the real estate industry. It has tools just for real estate agents, such as the ability to generate leads from sources such as listing videos, squeeze pages, and landing pages. Built-in templates can be used to customize pages with pricing and more.
Pros
kvCORE features advanced communication with leads through automatically sent texts and emails. Leads are generated automatically. You can also see all the properties viewed by a prospects, and kvCORE even generates property flyers automatically.
Cons
kvCORE won't let you customize searches for clients, which can be frustrating for some real estate agents. There is a kvCORE app, but we found that it wasn't as useful as some of the other CRM platform apps we've used. Also, there are limited hours on kvCORE customer service.
Verdict
If you work in the real estate industry, just know that kvCORE is the real deal. It's got features that have already been tailored to your needs, which really takes the guesswork out of your CRM.
13. Netsuite CRM+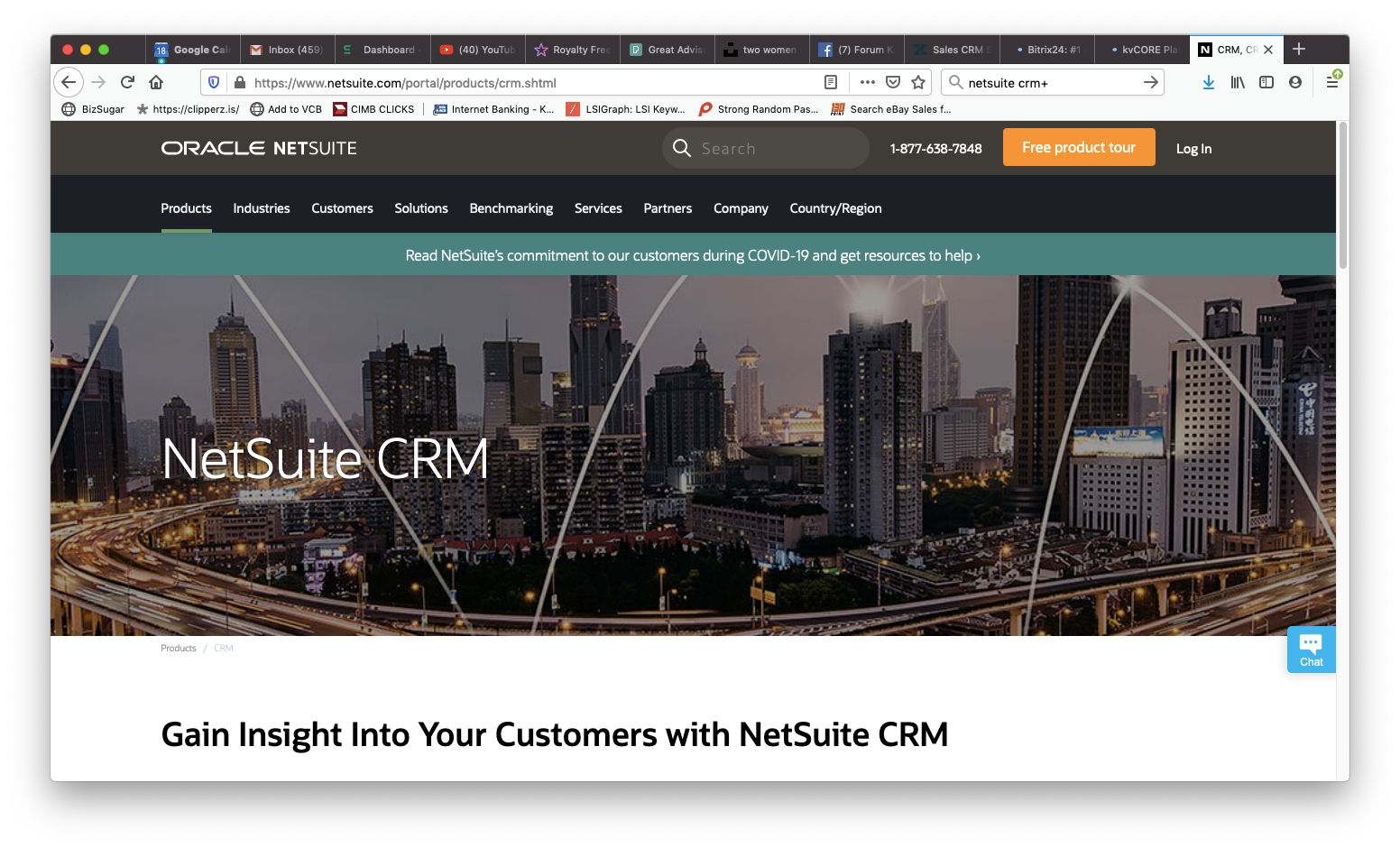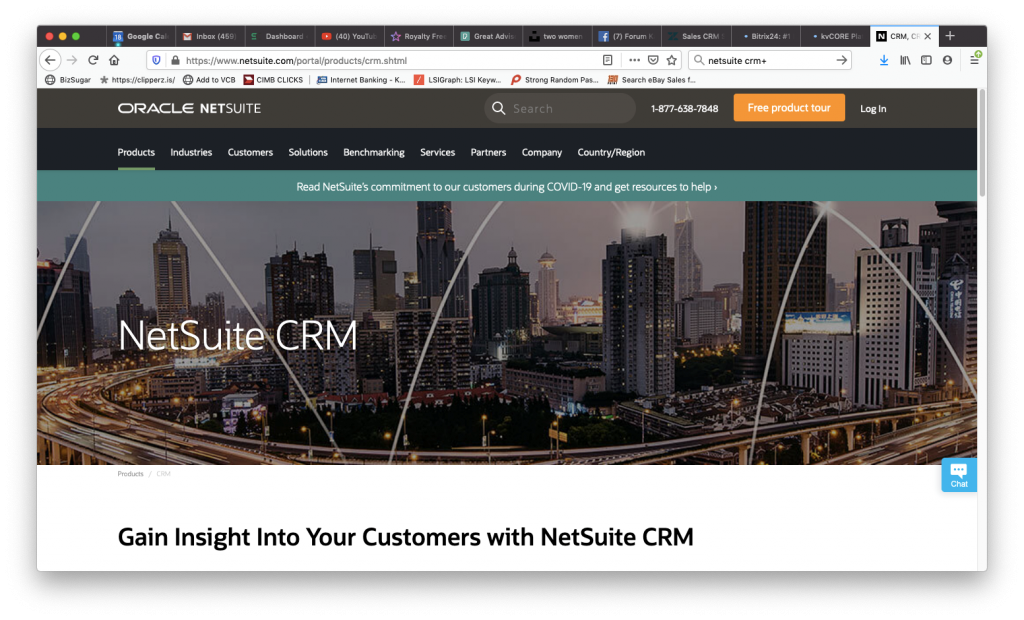 Overview
Netsuite CRM+ is a comprehensive CRM software that places heavy emphasis on sales, marketing, and customer management while also integrating analytics for tracking customer data. This platform can be tailored to suit virtually any industry, making it a great baseline CRM platform for just about any niche.
Pros
We found that Netsuite CRM+ was intuitive and relatively easy to use overall. We were able to conduct many actions directly from the dashboard, and Netsuite CRM+ demonstrated that it was extremely versatile with features including task management, internal chat, and lead scoring.
Cons
Netsuite CRM+ isn't for everyone, however. It seems cost prohibitive to small businesses and startups, and we also found that customer service wasn't all that smooth at times. There also seemed to be little training available. We also found that building reports could be cumbersome.
Verdict
All in all, we think Netsuite CRM+ is a solid choice for a baseline CRM platform that could be tailored for any industry, although there are some limitations that need to be weight out on a case-by-case basis.
14. Less Annoying CRM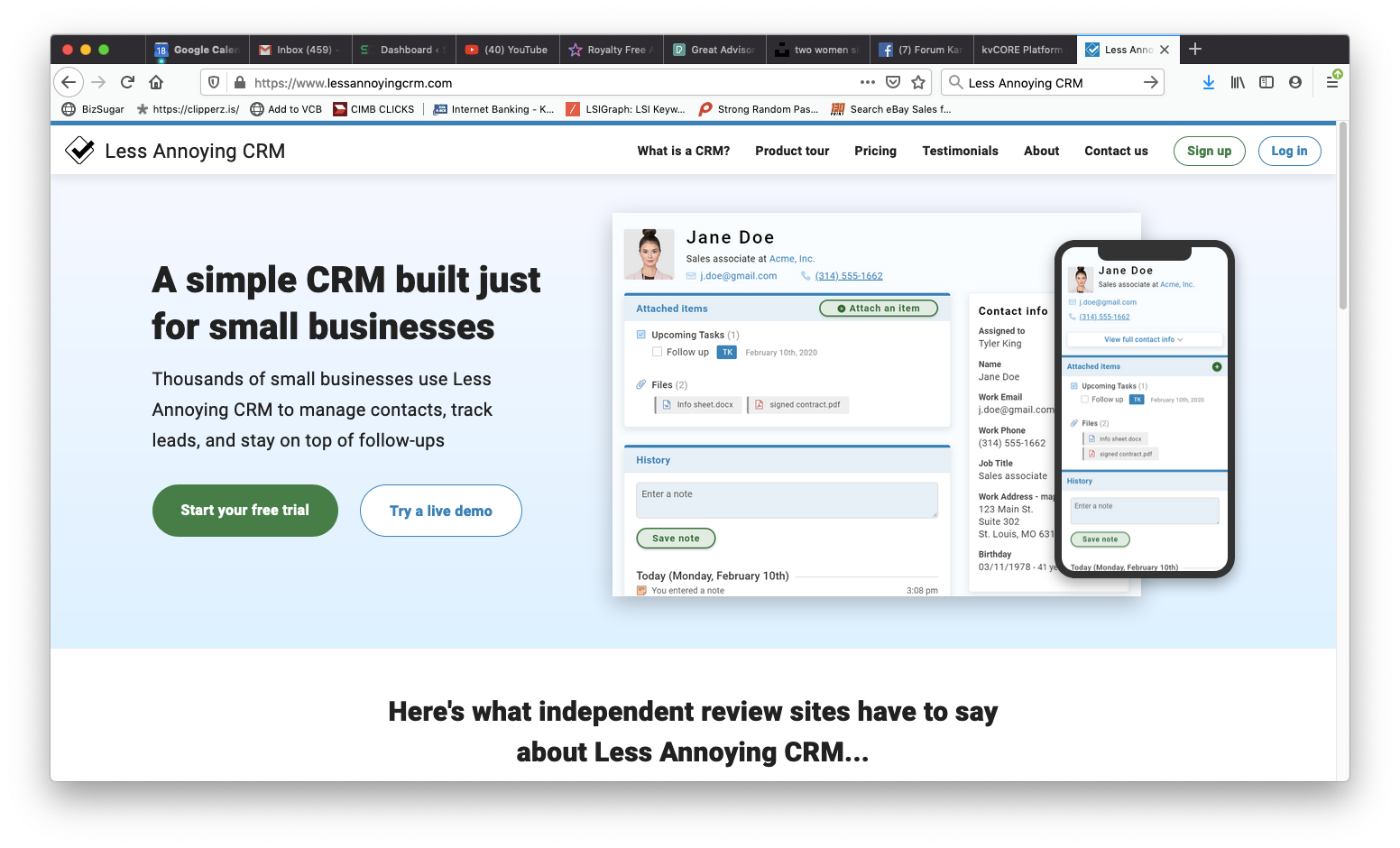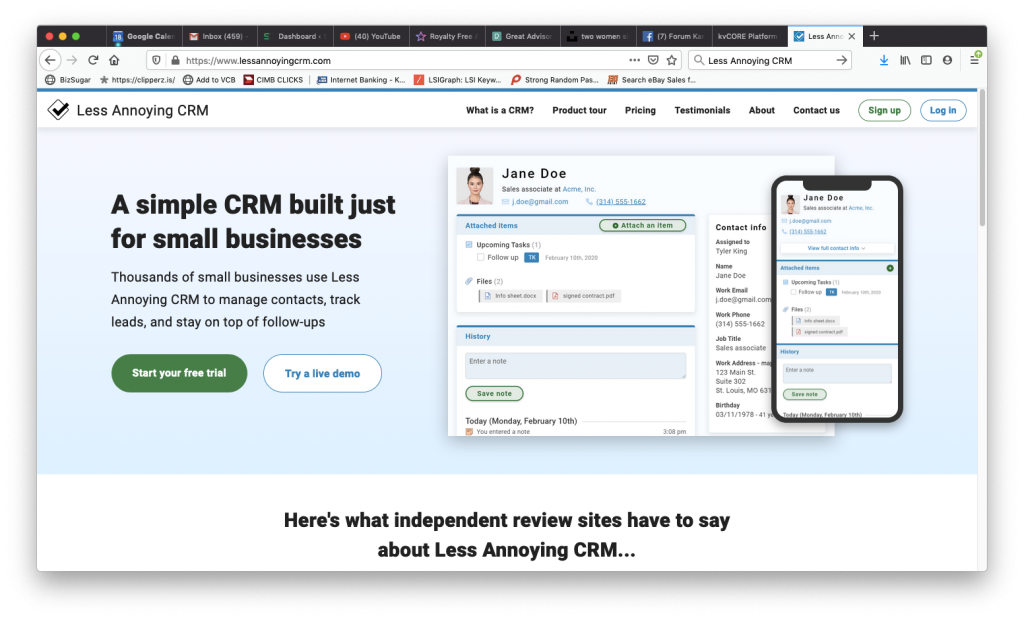 Overview
Less Annoying CRM is a CRM platform that's a favorite for small businesses, offering a simple design that users love. This is a great software for first time CRM users, offering an intelligent interface that guides users through everything they need to do.
Pros
Less Annoying CRM offers an elegant user interface that's loved by its users. You can start with a free 30 day trial, which offers plenty of time to see the true potential of Less Annoying CRM. After that, the costs are relatively low. We like the all-in-one approach, which lets you take advantage of everything from lead tracking to task management and much more.
Cons
There are few downsides to Less Annoying CRM, but there are some to know about. For instance, you can't chat with other users. There's no app integration, which could be a downside for some. There's also not a mobile app, as with other CRM platforms. We didn't find that Less Annoying CRM has strong sales tools.
Verdict
Less Annoying CRM is a wonderful, simplistic CRM system that is a great choice for first time CRM users. It offers a wide range of tools that are extremely useful, but there are a few limitations to the platform. If you need a solid, basic CRM system, Less Annoying CRM could be an excellent choice for you.
15. Connect CRM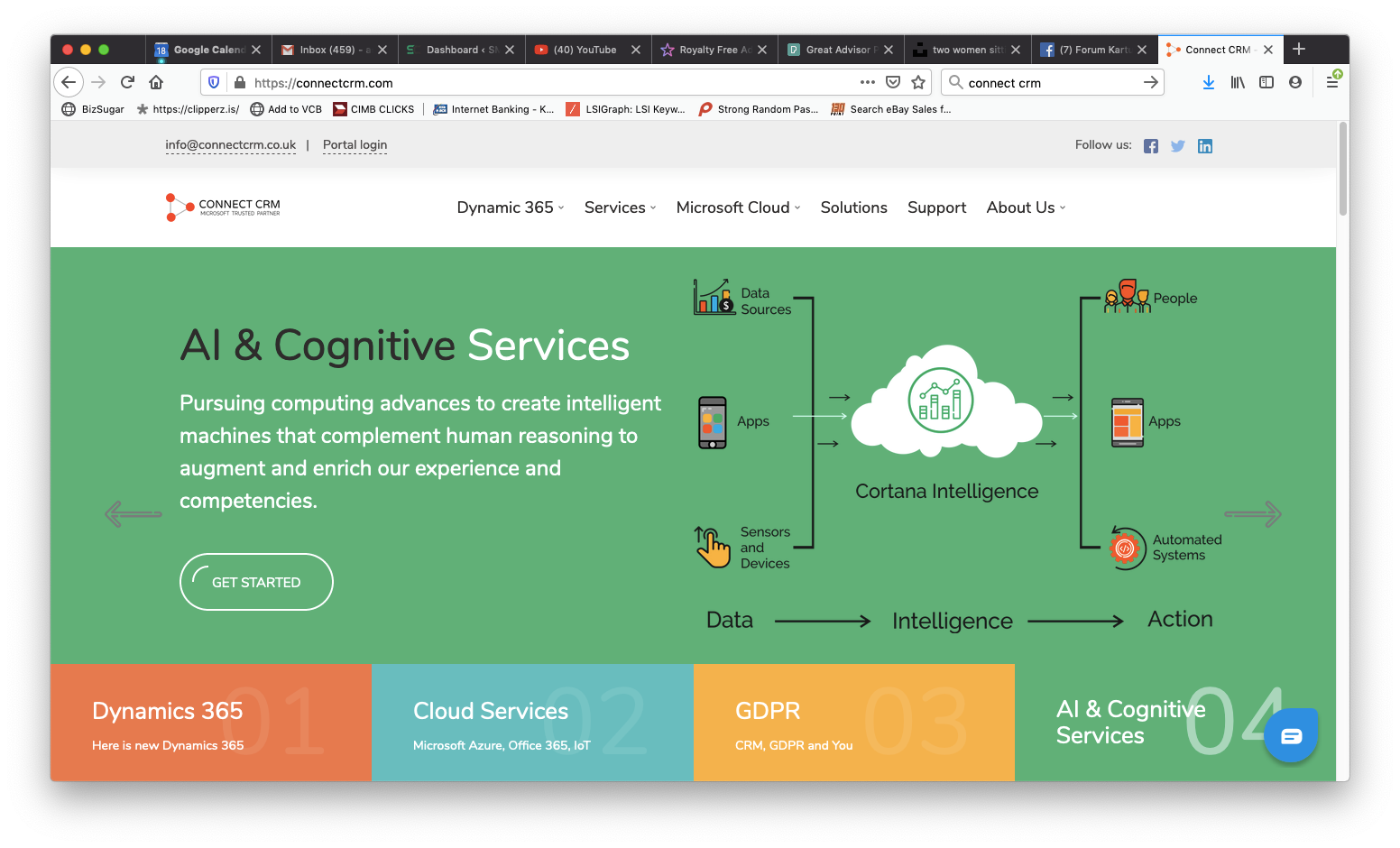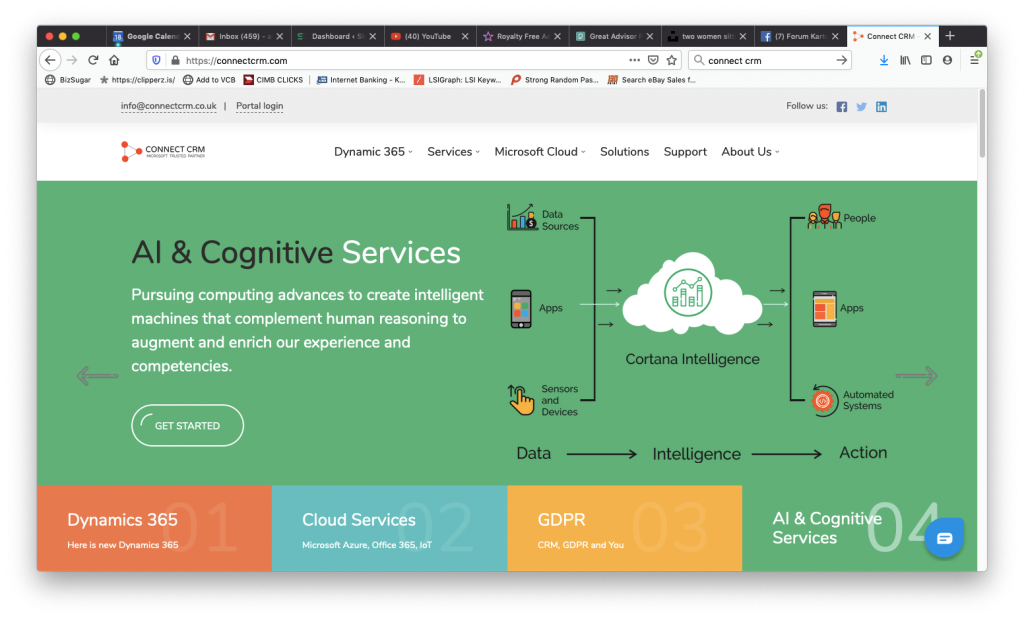 Overview
Connect CRM is a web-based CRM system designed just for automotive dealerships, making it very unique. For dealerships, Connect CRM seems like an obvious choice. It offers management for lead reports, inventory, vehicle preferences, customer visits, sales, and much more. Connect CRM is made to ensure business retention.
Pros
Connect CRM is easy for automotive dealership users to jump right in and get started and is backed by wonderful customer support and the support of performance managers, who offer ongoing assistance and guidance when new features are released. Connect CRM is also very intuitive, making it a very useful tool.
Cons
We found that Connect CRM wasn't quite as streamlined as other CRM platforms, but it was still manageable, and we were a bit disappointed that there wasn't a free trial available.
Verdict
Overall, we feel if you are involved in marketing or sales for an automotive dealership, then Connect CRM should definitely be on your radar. It's completely unique to the niche with accounting management, documents management, website integration, and other tools you're going to want.
16. Spiro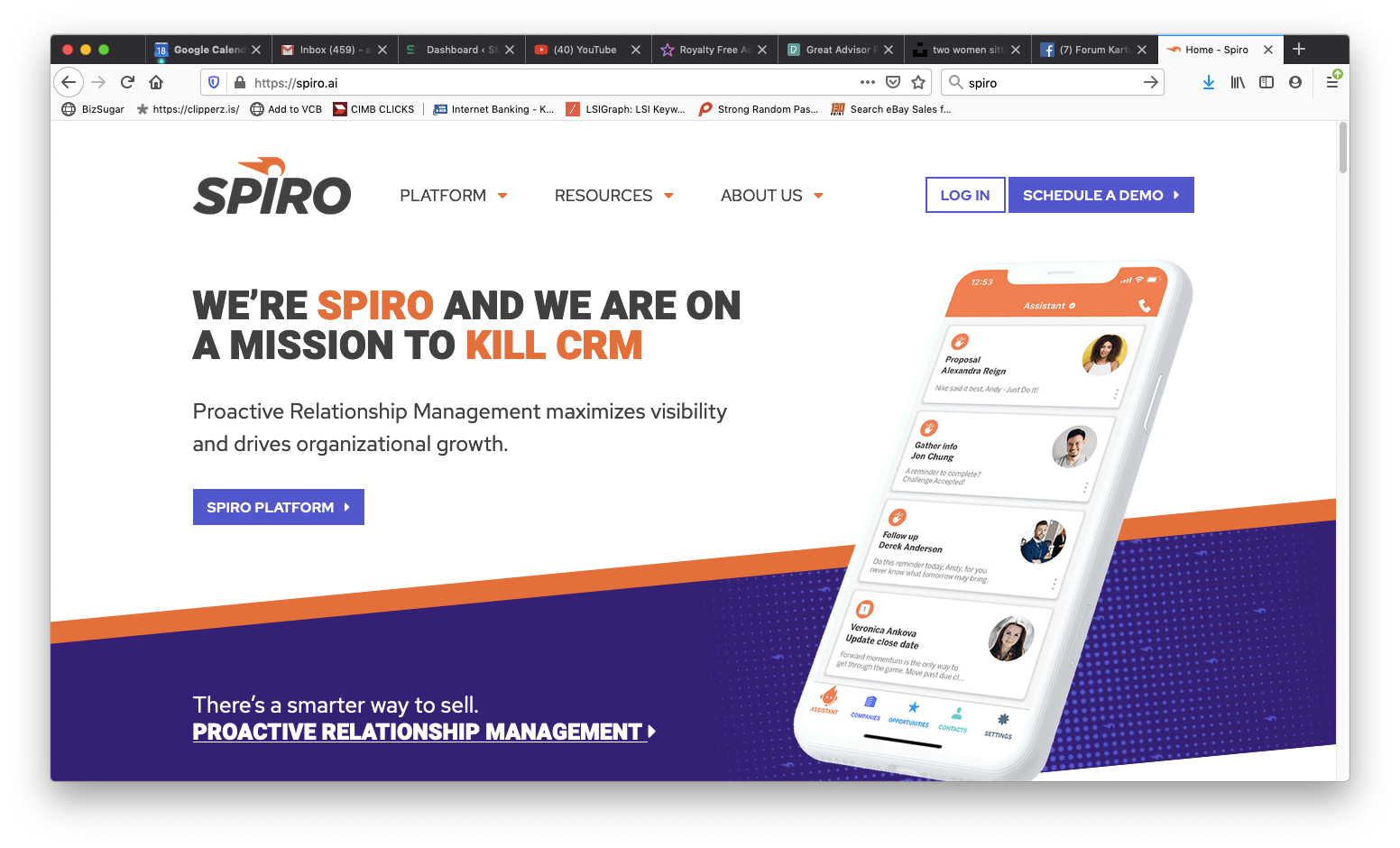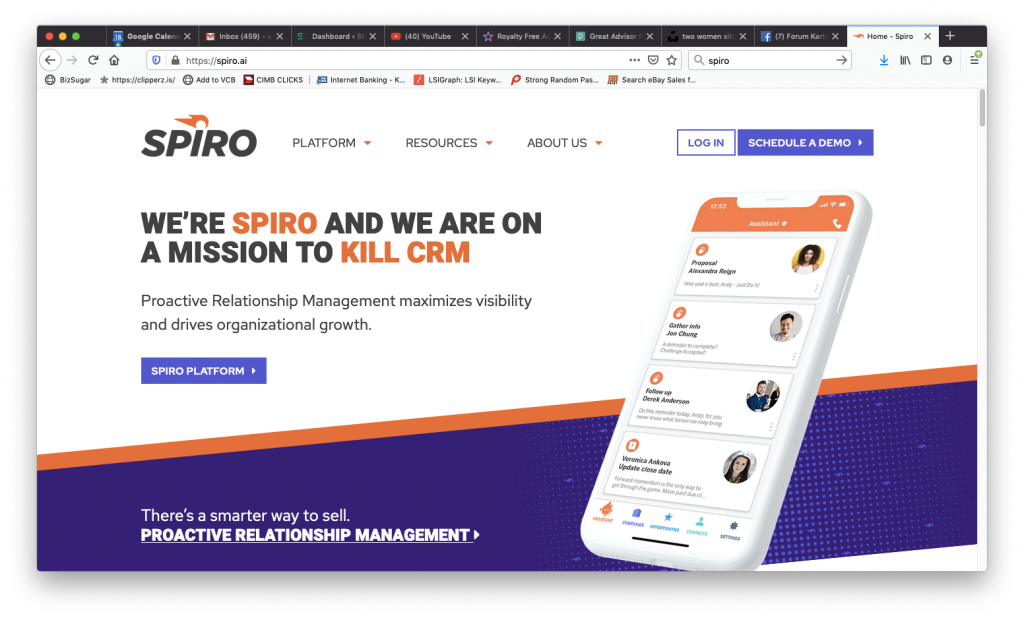 Overview
Spiro is a CRM solution designed for mid-size B2B (business-to-business) companies. It automatically creates contacts, offers recommendations, and organizes opportunities, offering a definite edge on some other platforms. Businesses that can benefit from Spiro include those in manufacturing, software, logistics, and insurance.
Pros
Overall, Spiro is relatively easy to use, and they offer a world class customer care team to help as you setup and implement Spiro. Also, the Spiro phone app lets you stay in sync with your CRM with convenience. The Spiro assistant is perhaps the most sought after feature in the platform and offers intuitive help along the way. Plus, app integration really sets Spiro apart from the crowd.
Cons
Spiro isn't for anyone, touting a price tag that's much heftier than many other CRM platforms. It's designed for larger needs with more robust needs. While the app is available, it has limitations on what you can see. For instance, the app doesn't offer a complete view of reports. Also, Spiro doesn't have pipelining tools.
Verdict
All in all, we must say that Spiro is a hard hitting app for larger companies. While it does cost more than other CRM systems out there, it can handle much more. If you need a workhorse in the CRM realm for your B2B company, then check out Spiro.
17. Workbooks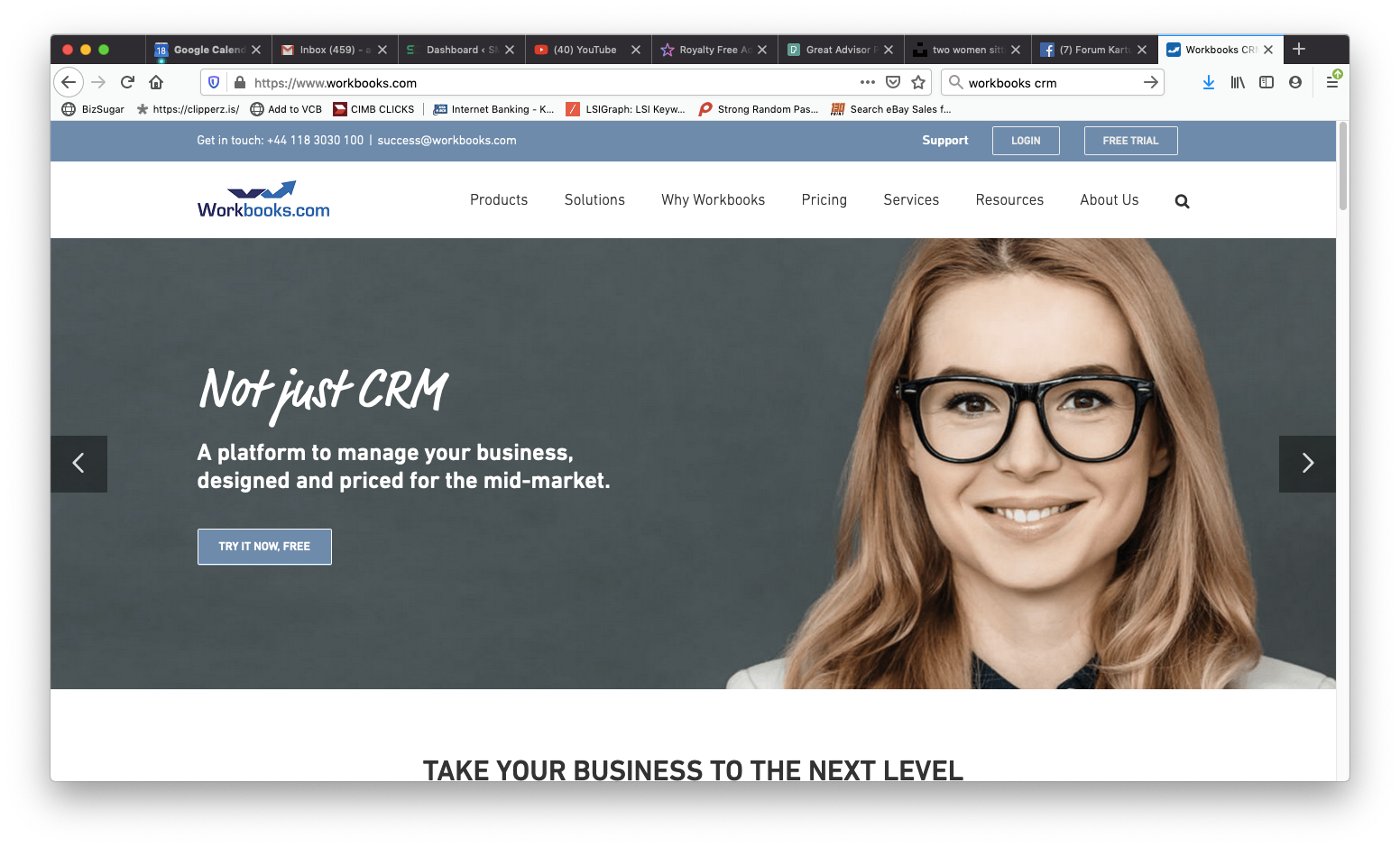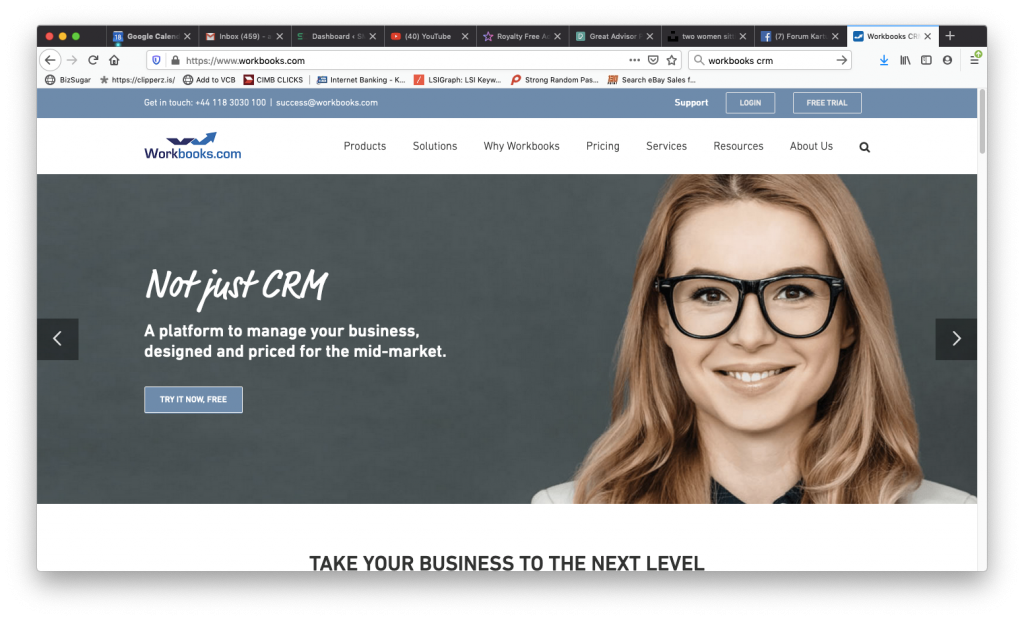 Overview
Workbooks is a comprehensive CRM platform and marketing solution with features that go outside of just sales, marketing, and customer support. For instance, Workbooks is a top choice because it also includes tools for fulfillment, order management, invoicing, and event management.
Pros
Workbooks comes complete with a free trial, giving you time to give the system a try. It's backed by a solid customer support team. We really enjoyed the lead management tools found in Workbooks, as well as how we could customize reports and screens to our liking. Additionally, the reporting included fantastic data insight. We were able to integrate with Google Adwords. After the free trial, Workbooks is an affordable end-to-end CRM platform.
Cons
There could be more support documentation available in the Knowledge Base; this would cut down on messages to customer support. Customization was available, but it wasn't as simple as with other platforms. There was a lot of clicking to get to different areas. Also, you can only have two authorized contact people who can get in touch with customer service.
Verdict
Workbooks offers a lot of bang for the buck. You get tons of features and a system that can be scaled for various industries and teams. There's a bit of a learning curve with Workbooks, but it's worth the work.
18. SugarCRM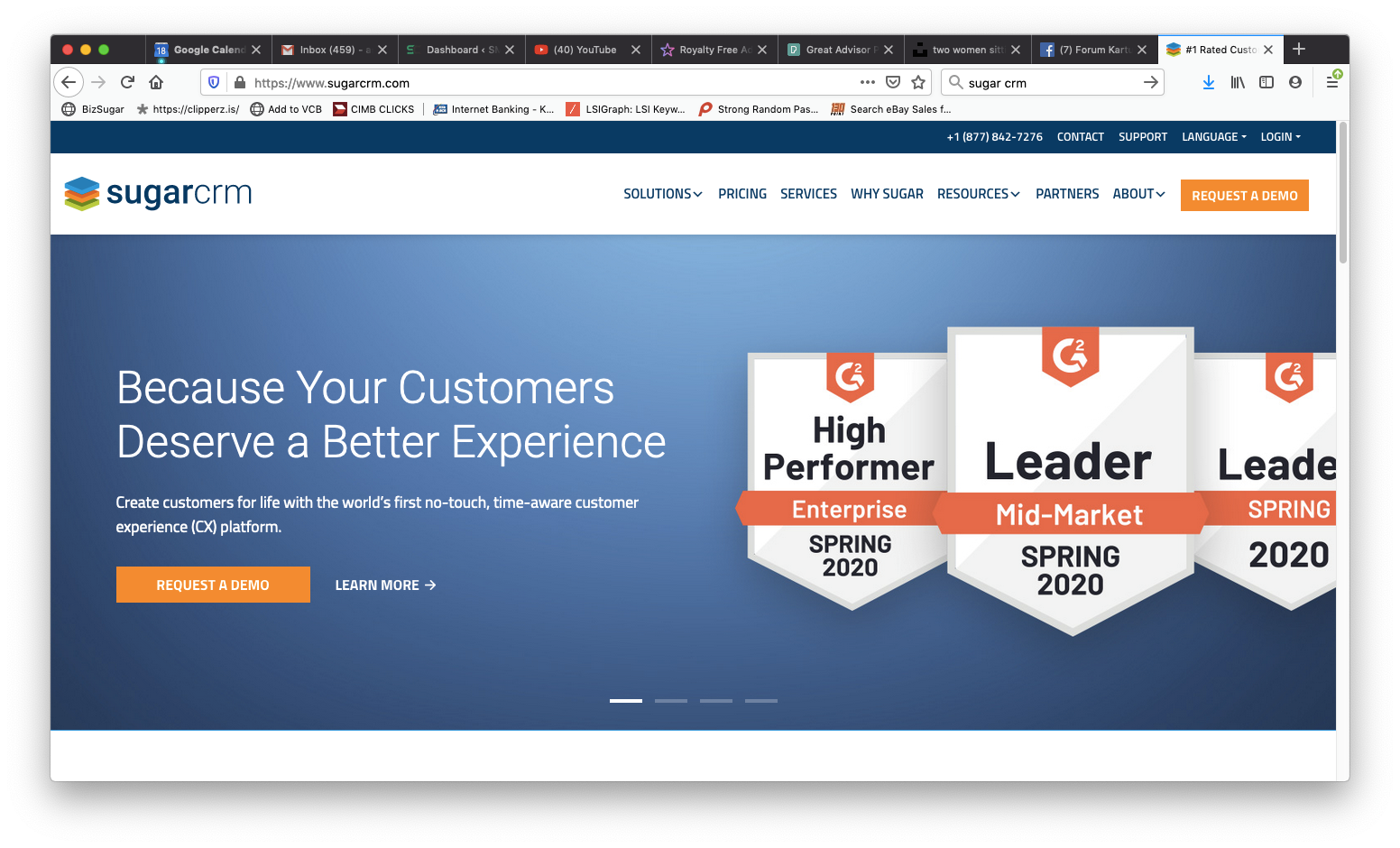 Overview
SugarCRM is a cloud-based, open-source CRM platform that can handle sales and marketing automation, customer relationship management, and account management needs effortlessly. Since it's got an open-source API, you can customize the platform in a wealth of areas, which truly sets it apart from other CRM platforms.
Pros
SugarCRM offers a wizard tool that is great at helping new users along in setting up the system for their needs. The full customization that comes with SugarCRM makes this a really sweet deal. Also, there is a long list of downloadable plugins for further customization, and SugarCRM integrates with a number of third party apps. This is a cost-effective CRM platform designed to help small businesses grow!
Cons
SugarCRM doesn't feel as user friendly right off the bat in comparison with other CRM platforms. It can be overwhelming for new users. We found that SugarCRM could be a bit slow at times. There is a 10-user minimum, which could turn many clients away. Also, there is a 7-day free trial, but that's barely enough time to really get to know the system.
Verdict
SugarCRM is an open-source platform, which is extremely unique in CRM. This CRM system is packed with sales, marketing, and customer support tools that small businesses need for growth. There's a bit of a learning curve, and teams of at least 10 are required to get started.
19. Monday.com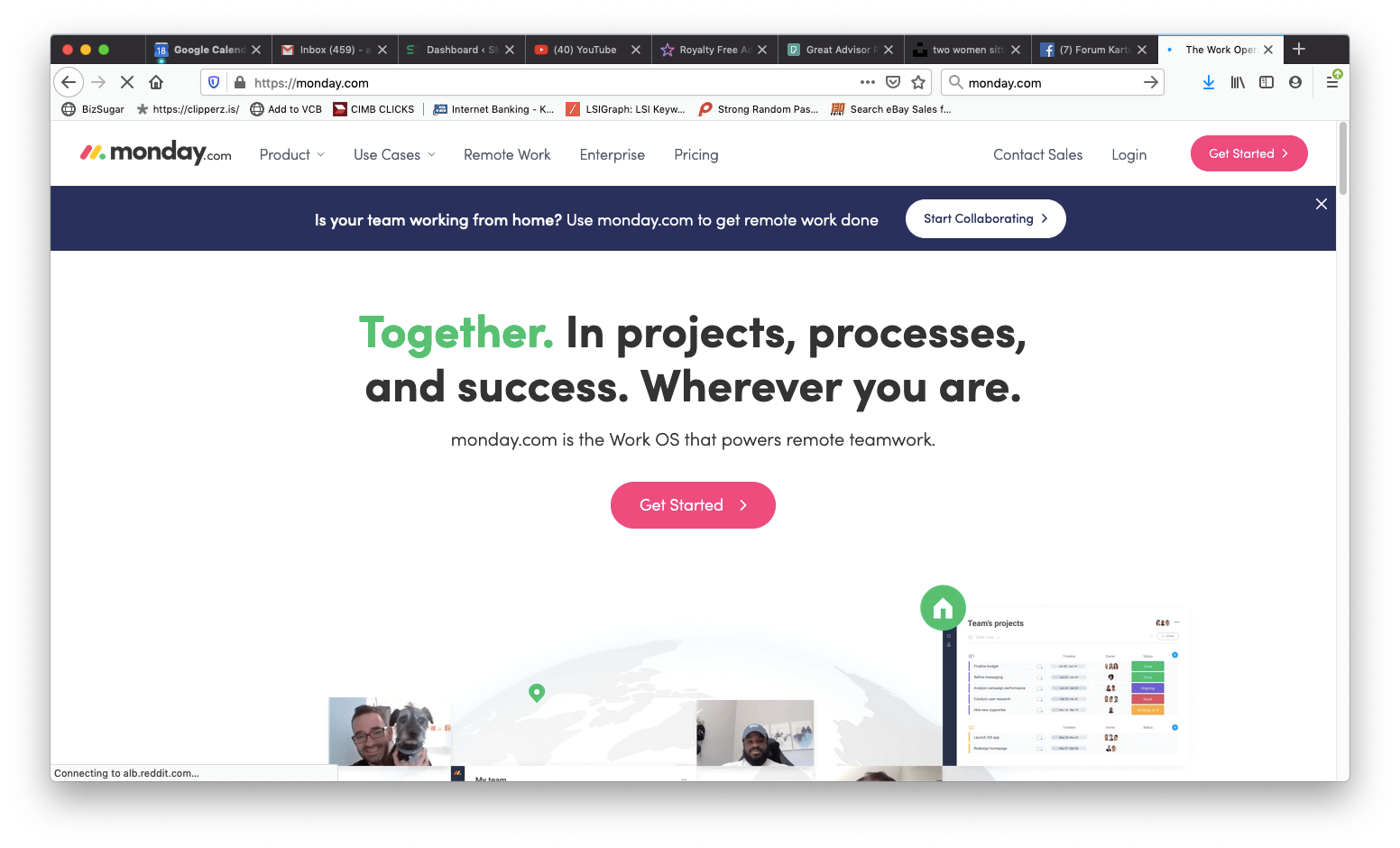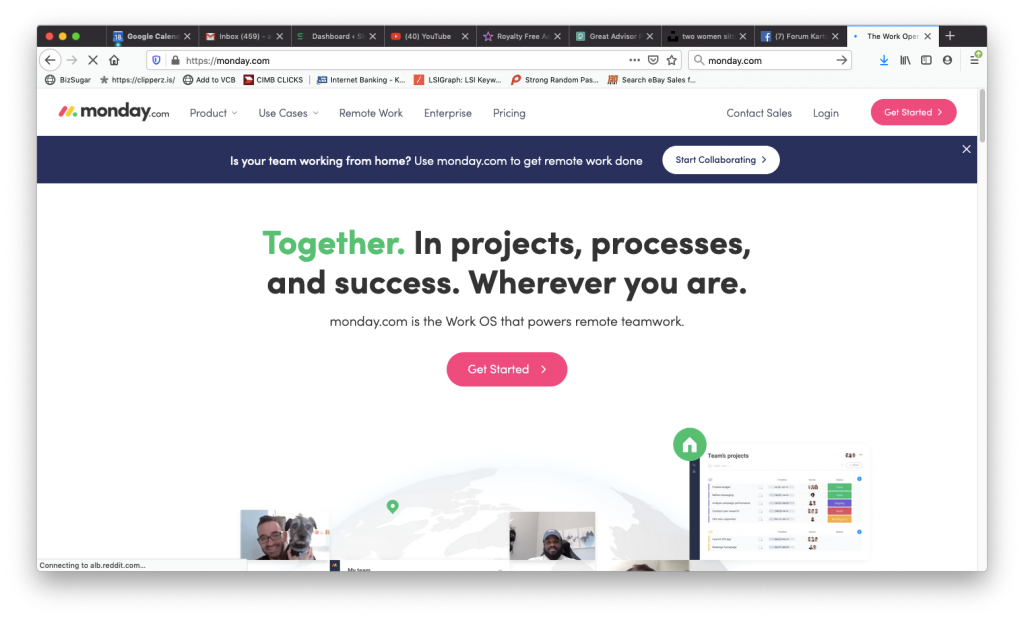 Overview
Monday.com isn't a typical CRM platform like the other ones we've discussed here. Instead, Monday.com is more of a project management tool made to help teams increase productivity. The system includes customized workflows, timeline views, notifications, time tracking, and much more in a visually pleasing package.
Pros
Monday.com combines the best of CRM and project management within a single beautiful interface. You can seamlessly manage everything from your teams to your supplier communications in a single place, and you can easily start a new task with the project templates available. Monday.com offers project visualization tools that are truly second to none, and with plenty of integrations, you'll find an impressive list of ways to use Monday.com.
Cons
Monday.com can be expensive for teams. You won't find advanced features, such as task tracking within Monday.com, and other advanced tools are only available in the higher priced tiers.
Verdict
Monday.com is an extremely approachable project management and CRM platform for teams. It's got a beautiful design that's easy to navigate, and you can integrate many of the platforms you're probably already using. To get the most from Monday.com, you'll likely have to consider going with one of the higher priced tiers, though.
20. Avochato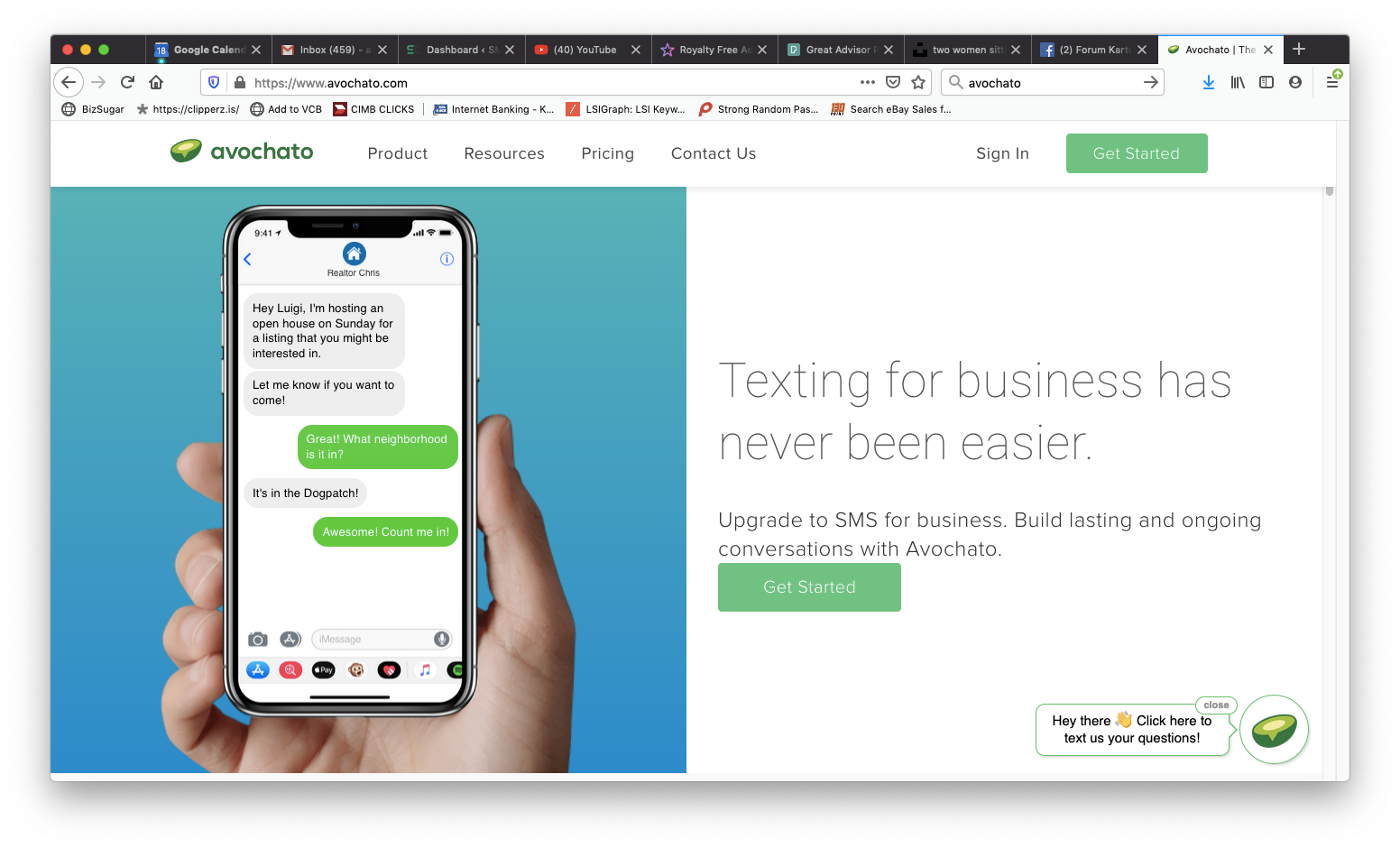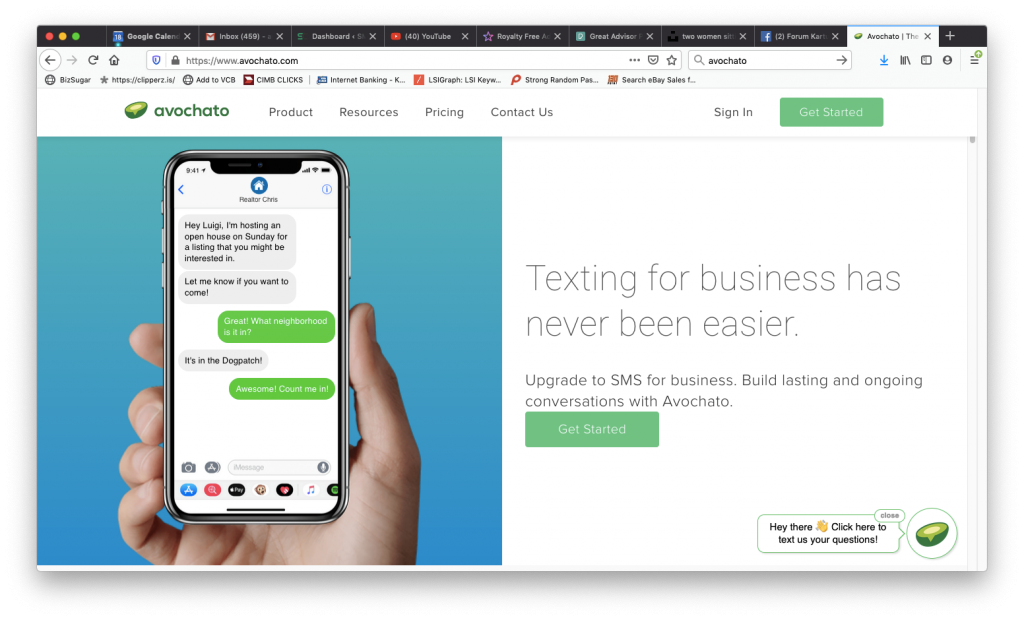 Overview
Avochato isn't like the other CRM platforms we've taken a look at, but it's definitely something you'll want to consider as a part of CRM. Avochato is a text messaging and reputation management platform that helps manage and monitor customer reviews, as well as blast text messages to customers. Companies in a wide array of industries, such as automotive, e-commerce, insurance, and real estate, are using Avochato every single day.
Pros
Avochato has a nearly perfect rating everywhere you look. It's easy to use and offer rich, user-friendly tools and features. For instance, the Text Broadcast tool is among user favorite. Avochato's customization options are exceptional. Avochato offers private inboxes, meaning you don't have to see other users' messages, and they can't see yours. Also, a calling feature lets you call contacts directly.
Cons
In terms of Avochato, cons are few and far between. One thing we can say about Avochato is that users would like more integration options. Also, there's not an auto-schedule feature as of now.
Verdict
From what we've seen, the team at Avochato is always looking to improve their platform, which is pretty much perfect as it stands. If you want a simple to use yet powerful tool for managing your reputation and quickly texting large volumes of people, then Avochato is a solid choice over the other options out there today.
Conclusion
As you can see, no two CRM platforms are the same. The key is finding exactly what you need. First, you'll want to consider what features are actually going to be beneficial for your company. That will help you cull a few platforms. Then, start looking at price. Many platforms do offer a free trial, while others do not. If you are determined to try before you buy, then you can scratch the platforms not offering a trial off of your list. Then, find the platforms that meet your budget needs.
A platform such as Avochato could easily be used alongside your CRM, although it might not be an ideal standalone choice for your needs.
When it comes to features, we think that having a platform that's easy to use is extremely important. You'll want to find one that is easy for you to navigate but also offers the features you're looking for. With the right CRM platform, you'll be surprised how much more gets done in terms of marketing and sales, and you'll be impressed at the growth you see!